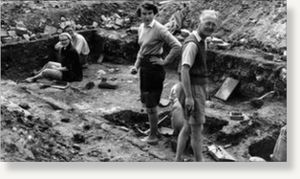 Pottery fragments from an excavation archive of Glastonbury Abbey have shown the site dates back to the Dark Ages, which is later than previously thought.
The research project into the 1951-1964 excavation archive have shown humans occupied the site in the late 4th or 5th centuries.
Archaeologist John Allan said: "We hadn't realised these periods were represented in the excavated pottery."
Other finds include "exotic" pottery from Italy, Spain, Portugal and France.
Wealthy medieval monks
"A scatter of exotic Saxon, Norman, medieval and later ceramics attests the great wealth of the abbey.
"Scientific analysis has now established the precise origins of some of these finds; the most distant come from Italy, Spain, Portugal and France," said Mr Allan.
Despite the find, there is no evidence to show whether the site was being used at the time for religious or secular activities.
The archaeological dig was carried out during the 50s and 60s by Ralegh Radford and the new research into his finds has been carried out by the archaeology department at Reading University.
Although Mr Radford published an interim report about his finds a full report was never made.
It was only after his death in 1999 that his excavation archive was deposited at the National Monuments Record in Swindon, making this research possible.
Glastonbury Abbey was regarded as an important place of pilgrimage for Christians built up around the legend of Joseph of Arimathea, Jesus' uncle who is said to have visited Glastonbury to spread the word of Christianity.
Apart from discovering the early history of the abbey, archaeologists have also revealed more about the medieval history of the Benedictine abbey and the precise origins of these finds.
The curator at Glastonbury Abbey, Janet Bell, said: "The abbey was using high quality tableware such as the Saintonge polychrome jug from western France.
"This probably came to the abbey through the Bordeaux wine trade in the 1300s and would have probably been used to serve wine at the monk's table.
"Other exotic finds include a tin glazed tile from Seville, which probably decorated the abbots lodging around the time of Henry VIII's reign."
The abbey was destroyed and pillaged during Henry VIII's dissolution of the monasteries in the 16th Century.