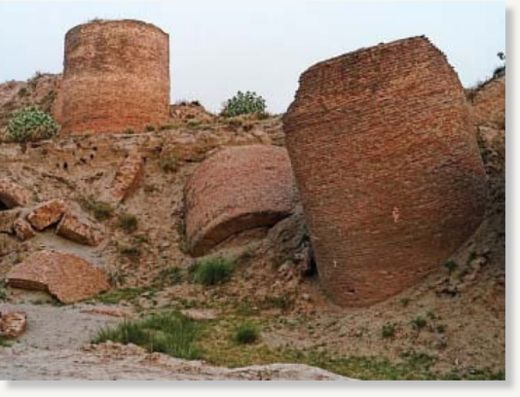 The government on Friday issued a notification banning any excavation at the site where the ruins of a bridge supposedly from the Mughal era, have been discovered.
The Punjab Archaeology Department will send a team of technical staff, architects and civil engineers within a couple of days to the site for the documentation of the structure for preservation.
Nadia Saquib, the Ferozewala assistant commissioner, told
The Express Tribune
that she had prohibited all kinds of excavation at the site.
She said the land owners had been directed not to take any step that could harm the historic structure.
While the Punjab Archaeology Department said they were informed about the ruins by a revenue official, Saquib told
The Tribune
that the ruins were found during a visit by a city government team looking for land to set up a disposal plant.
She said she had informed the Punjab chief secretary, the culture and youth affairs secretary and the archaeology director about the discovery.
"It is now the duty of the departments concerned to preserve the site," she said.
Saquib said that sites where historic structures or minerals were discovered automatically fell under government control.
Chaudhry Akram Chhabil, the owner of the land where the ruins were discovered, said the structure would be taken care of. He said, he had no issues with giving away the land to the government as he already owned enough land. The land used for cultivation a few decades ago, he said, had now become a sand bank for the farmers. Chhabil promised the authorities that no tractor-trolleys would be allowed to go towards the structure.
The pillars discovered so far are 50 feet high and spread over 12 kanals. More excavation will be required to uncover them entirely.
Dil Faraz, who has been plying tractor-trolleys to dig and sell sand, said that his diggers had tried to reach the base of the pillars, but were unable to accomplish that.
Afzal Khan and Arshad Khan, the Archaeology Department deputy directors, have already visited the site. Afzal told
The Tribune
that an application had been moved for preserving the site. "We will examine the site thoroughly and then process the documentation," he said.
Now that the structure has been unearthed, Afzal worried about the damage it might face in case of heavy rains or a flood. He said the Meteorology Department will be consulted in this regard.