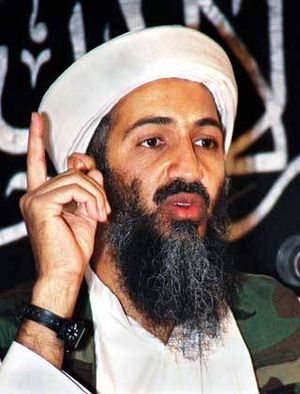 Islamabad - The claims regarding Osama bin Laden's death began almost immediately after Sept. 11, 2001 American invasion of Afghanistan.
In 2010 a website released photo of the body of Osama bin Laden and claimed that he was killed several years ago. But what is more surprising is that the very same photo was being circulated Monday after U.S. forces reported that Osama bin Laden was killed early Monday.
It was not clear why the same photo of "dead Osama" which was available with several regional agencies were released Monday once again to the media.
This led to speculations that "Osama's body might have been brought in to be later 'discovered' from the scene of clash with other Al-Qaeda militants.
The discovery of Osama's body from Bilal Town, Abbottabad has increased pressure on Pakistani security forces.
Some experts expressed surprise over official confirmation of Osama's death at highest level in the United States just within a few hours of Osama's death. Experts say that a DNA test cannot be done within a few hours and professionals cannot be satisfied with DNA tests conducted within three or four hours after death.
American, French, Saudi and even Pakistani leaders Benazir Bhutto and President Zardari had claimed that Osama was long dead.
In 2007, Benazir Bhutto in an interview with U.S. TV channel claimed that the Al-Qaeda leader was 'murdered' years ago. In the interview, she identified the man who killed the notorious al-Qaeda leader as one Omar Sheikh. A few weeks after her statement Benazir Bhutto was assassinated on December 27, 2007.
The report that Osama bin Laden's body had been buried at sea, claiming it was in accordance with Islamic law, has also raised several questions. It is also a fact that burial at sea is not an Islamic practice and Islam does not determine a timeframe for burial.
Here is the time-line on claims of Osama bin Laden's death since 2002.
July, 2002 FBI counter-terrorism chief Dale Watson tells a law enforcement conference: "I personally think bin Laden is probably not with us anymore, but I have no evidence to support that."
August 2002, an American radio host Alex Jones announces, citing high-level Bush administration sources, "that bin Laden died of natural causes and that his family has given the body to the CIA." Jones added, "they're gonna roll him out right before the election, he's on ice right now."
May, 2003 French military analyst announces that bin Laden was killed in an American air raid in Tora Bora shortly after the invasion of Afghanistan in 2001.
February, 2004 Iranian Radio reports that bin Laden was captured in the Afghan-Pakistan border area "a long time ago" - but the official announcement was delayed because "Bush is intending to use it for propaganda maneuvering in the presidential election."
April, 2005 The Israeli press picks up an account from a radical Muslim London newspaper: "We now report that the al-Qaeda organization has announced the death of Osama Bin Laden."
September 2006 French intelligence document says that Saudis believe bin Laden had died of typhoid in Pakistan.
June 2008: Citing two unnamed officials,
Time
magazine reports that a recent CIA study has concluded bin Laden has long-term kidney disease and "may only have months to live."
April, 2009 President Asif Ali Zardari tells the media that his country's intelligence services "obviously feel that (bin Laden) does not exist anymore".
Finally on May 2, 2011 American President Barak Obama announces that the U.S. killed bin Laden in Pakistan.