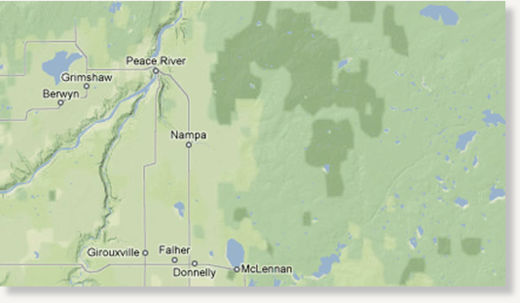 Emergency crews working to clean up massive leak northeast of Peace River
A pipeline break northeast of Peace River, Alta., has leaked 28,000 barrels of crude oil, during what is now considered to be one of the largest spills in the province's history.
The leak from the Plains Midstream Canada pipeline, discovered Friday, was originally thought to have involved several hundred barrels of oil.
It now appears to be the biggest crude oil pipeline leak in Alberta since 1975, when a Bow River Ltd. pipeline leaked 40,000 barrels, according to Davis Sheremata, a spokesman for the Alberta Energy Resources Conservation Board.
"It's been the biggest spill from a pipeline involving crude oil that we've had in Alberta certainly in about the last 18 years or so," Sheremata said.
The last major incident was in 1993 when 18,000 barrels of crude oil leaked from a BP Canada pipeline.
The original estimate was revised after workers collected data from the site, Sheremata said. The crude is now contained and about 100 workers are now recovering oil from sand and nearby stagnant water.
Remediation efforts are now underway, a process Sheremata said will take weeks. Oil will be skimmed off the surface of the water and the contaminated soil will be dug up and trucked away.
The leaked crude is about 300 metres away from any flowing water or run-off and the nearest home is more than seven kilometres away.
No one was injured in the incident. At least four beavers and 10 waterfowl were euthanized after they were found covered in oil over the weekend, according to Trevor Gemmell from Alberta Environment.
"There was a small pond that was affected," said Gemmell.
The pipeline carries crude from Zama, Alta., to Edmonton. The line will remain closed until the cause of the leak is determined.