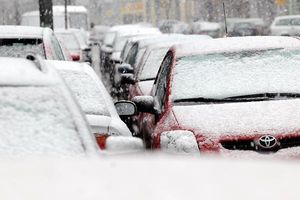 About 10 thousand people in Lower Silesia region are left without electricity due to the heavy snowfall.
Wet, heavy snow broke branches in many places, damaging power lines of high and medium voltage.
As reported by Marek Poniatowski, staff member of the Safety and Crisis Management Department of Silesian Voivodship Office in Wrocław, those failures, if possible, would be removed on the fly. But there are places where power lines have been damaged at many points, and access to them is difficult because of the residual snow and very slippery surface. The worst situation is in the vicinity of Swierzawa, where as manay as 7 thousand people are left without electricity.
Poniatowski added that because of the snow there is also a very bad situation on the roads, especially in the mountain regions.
"Due to the snow, slippery surface, and broken branches in many places through roads are blocked and detours are necessary or alternating traffic is used. Road traffic is high, because people are coming back from a long weekend, which was spent in the mountains", said Poniatowski.
It's snowing also in Wroclaw, Legnica and Lubin.
Currently there is traffic congestion on the national road No. 8 and other county roads in Klodzko region.
This morning, the snow surprised not only residents of Lower Silesia, but also Great Poland.
The forecasts are bad also for Zakopane. Today, it may not yet be white, but tomorrow residents can wake up to a pretty winter landscape.
It's supposed to be snowing for most of the night, and the temperature will drop to minus five degrees
[Celsius].
It will be snowing hard
The Institute of Meteorology and Water Management in Wroclaw warned about an intense snowfall of 5 to 10 cm, and up to 20 cm in the mountains, slippery surfaces and temperatures dropping to -4 degrees Celsius on Tuesday and Wednesday. The are difficult conditions on roads in the region.
Snow is falling not only in the mountains: Jelenia Gora, Karpacz, Szklarska Poreba, or Jakuszyce Valley, but also in Wroclaw, Legnica, Lubin, Walbrzych.
"There is a big problem with traveling because people are returning from the long weekend in the mountains on summer tires. They get stuck in snow, slip on icy and snowy roads. They stand in long traffic jams or have problems with driving uphill" said the crisis staff on duty of the Lower Silesian Voivodship Office in Wrocław.