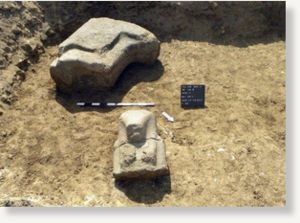 Archaeologists have discovered a giant statue of Egypt's famous pharaoh Amenhotep III at his mortuary temple in the southern city of Luxor, the antiquities authority said on Tuesday.
The 13-metre-tall (43-foot) statue was found buried in seven pieces at the mortuary temple of Amenhotep III at Kom al-Hitan.
It was one of two statues placed at the northern entrance of the temple, and was probably destroyed during an earthquake in 27 BC, the antiquities authority statement said.
"The archaeological team is now working to clean, restore and collect the seven pieces and find the head of the statue," the statement said.
It also said it was hoped the statue's twin would be unearthed soon.
Amenhotep III, who ruled Egypt between 1390 and 1352 BC, is the father of Akhenaten, the "heretic pharaoh" considered a precursor of monotheism because he tried to impose the exclusive worship of Aten.