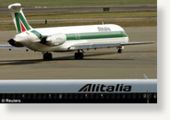 Alitalia flight crew were forced to overpower a man who pulled a knife on their passenger flight and tried to divert it to Libya.
As 131 passengers looked on in terror, the would-be hijacker held a knife to the throat of an air-stewardess and ordered the Paris to Rome flight diverted to Tripoli.
'The man grabbed the stewardess from behind her back and pointed the knife. She was in difficulty and tried to turn around,' a passenger named Sofia told reporters.
Stefanie, a French woman who lives in Italy, said the man laughed when the stewardess asked him to go the front of the plane with her.
'He held her for just a few minutes and then the other flight attendants intervened and passengers helped hold the man to the floor,' she said.
After the would-be hijacker was subdued the plane landed safely at Rome's Leonardo da Vinci airport, where he was held.
Italian media said police had identified the man as a 48-year-old Kazakhstan national who worked in Paris.
Most major airlines, including Alitalia, have suspended flights to Tripoli since the revolution against the regime of despot Colonel Gaddafi began in February. It is not clear what motive the man had for the attempted hijacking.
A statement from Alitalia airlines said the man had 'assaulted a flight attendant and asked that the plane be taken to Tripoli.'
Other attendants on flight AZ329 then overpowered the man, who was 'clearly agitated' and the captain radioed police, who arrested the man after the plane landed, the statement said.
An Alitalia representative told NYDailyNews.com: 'Thanks to the prompt intervention of attendants, the aggressor was immobilized and [kept] in his seat, and the flight continued on to Rome.'
The air-stewardess was injured in the attack and treated in the airport emergency room after landing.