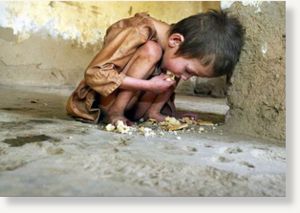 In case you haven't noticed, the world is on the verge of a horrific global food crisis. At some point, this crisis will affect you and your family. It may not be today, and it may not be tomorrow, but it is going to happen. Crazy weather and horrifying natural disasters have played havoc with agricultural production in many areas of the globe over the past couple of years. Meanwhile, the price of oil has begun to skyrocket. The entire global economy is predicated on the ability to use massive amounts of inexpensive oil to cheaply produce food and other goods and transport them over vast distances. Without cheap oil the whole game changes. Topsoil is being depleted at a staggering rate and key aquifers all over the world are being drained at an alarming pace. Global food prices are already at an all-time high and they continue to move up aggressively. So what is going to happen to our world when hundreds of millions more people cannot afford to feed themselves?
Most Americans are so accustomed to supermarkets that are absolutely packed to the gills with massive amounts of really inexpensive food that they cannot even imagine that life could be any other way. Unfortunately, that era is ending.
There are all kinds of indications that we are now entering a time when there will not be nearly enough food for everyone in the world. As competition for food supplies increases, food prices are going to go up. In fact, at some point they are going to go way up.
Let's look at some of the key reasons why an increasing number of people believe that a massive food crisis is on the horizon.
The following are 20 signs that a horrific global food crisis is coming....
Look around you. Read the headlines. See the largest factories of food, potassium iodide, and other emergency product manufacturers literally closing their online stores and putting up signs like those on Mountain House's Official Website and Thyrosafe's Factory Webpage that explain, due to overwhelming demand, they are shutting down sales for the time being and hope to reopen someday.
So what does all of this mean?
It means that time is short.
For years, many "doom and gloomers" have been yelling and screaming that a food crisis is coming.
Well, up to this point there hasn't been much to get alarmed about. Food prices have started to rise, but the truth is that our stores are still packed to the rafters will gigantic amounts of relatively cheap food.
However, you would have to be an idiot not to see the warning signs. Just look at what happened in Japan after March 11th. Store shelves were cleared out almost instantly.
It isn't going to happen today, and it probably isn't going to happen tomorrow, but at some point a major league food crisis is going to strike.
So what are you and your family going to do then?
You might want to start thinking about that.