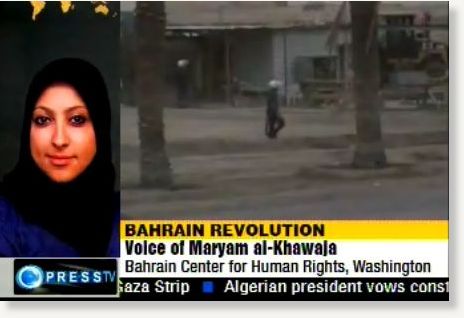 A Bahraini human rights campaigner says political activists detained by the Manama regime undergo torture in the prisons of the small Persian Gulf kingdom.
In an interview with Press TV, Maryam al-Khawaja of Bahrain's human rights center called on the Bahraini authorities to stop their crackdown on anti-government protesters and opposition figures.
"Within only a number of ten days we saw four people were declared dead by the ministry of interior, and the first one they said was from sickle cell anemia, the second one they said had caused a problem inside the prison and thus had to be subdued and then he died from complications and the third one again they said sickle cell anemia, the fourth one they said had kidney failure," al-Khawaja said.
"But then what we saw actually when the bodies were handed over to their families, wasn't just they had torture marks on them, their bodies had bruising and even marks of lashings, so we believe that it's more likely that they have died due to torture rather than the reasons stated by the government of Bahrain," she added.
Al-Khawaja's sister, Zeinab, has gone on hunger strike to protest the detention of her relatives in the state's brutal crackdown against anti-government protesters.
"My sister started a hunger strike, I believe this is the fourth day now after my father was beaten severely and was unconscious and arrested along with two of my brothers-in-law; my uncle was arrested about three weeks ago so since then we don't know where their location is," al-Khawaja pointed out.
"They haven't had access to a meeting with a lawyer or meeting with their families, so my sister launched this hunger strike in an attempt to bring attention to this case and to also put pressure on the government, the US government... She wrote a letter to [US] President [Barack] Obama, asking him to take a stronger stance on what's happening," the rights campaigner went to say.
Since the beginning of anti-government protests in crisis-hit Bahrain in mid-February, scores of protesters have been killed and many others have gone missing. Their bodies are frequently found days after.
According to the opposition, over 800 opposition activists have been arrested.
The Bahraini protesters are demanding an end to the rule of the al-Khalifa dynasty.
Bahraini security forces with the assistance of Saudi and UAE troops are brutally cracking down on demonstrators.
Protesters, however, say they will continue their street demonstrations until their demands for freedom, constitutional monarchy as well as a proportional voice in the government are met.