Archaeologists in the town of Wittenberg, Saxony-Anhalt, have unearthed a 453-year-old wooden "tally stick" used to keep track of debts.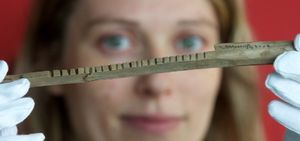 "It's something of a rare find in Europe" said archaeologist Andreas Hille from the State Museum of Prehistory in Halle, Saxony-Anhalt.
The antiquated debt counter measures 30 centimetres in length and displays 23 notches, with both a name and the date 1558 visible.
Archaeologists made the exciting find during excavations in the small easterly university town of Wittenberg, made famous by the Protestant theologian Martin Luther.
The well-preserved tally stick was used in the Middle Ages to count the debts owed by the holder in a time when most people were unable to read or write.
"Debts would have been carved into the stick in the form of small notches. Then the stick would have been split lengthways, with the creditor and the borrower each keeping a half," explained Hille.
The two halves would then be put together again on the day repayment was due in order to compare them, with both sides hoping that they matched.