Two Muslim women wearing face veils were arrested on Monday as France because the first country to enforce a ban on full face coverings.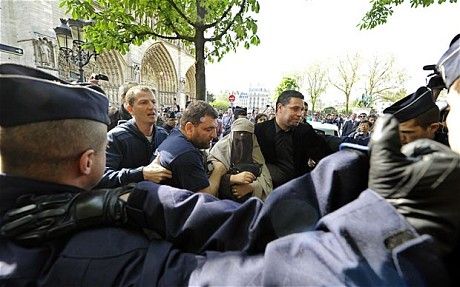 Kenza Drider, a 32-year-old, travelled to Paris from her home in Provence to force a confrontation with police, and was one of those arrested.
There were minor scuffles as officers apprehended her outside Notre Dame Cathedral together with another niqab-wearer staging an illegal demonstration against the new law.
Technically, the women could now face fines of 150 euros, or 132 pounds, as well as citizenship lessons.
But Alexis Marsan, a public order official, said they were solely given warnings for taking part in an illegal gathering.
Five men and another women were also held for taking part in the demonstration.
After her brief detention, Mrs Drider said she hoped she would eventually be prosecuted so that she could take her case to the European Court of Human Rights.
"This measure is illegal - it is solely designed to oppress women in my position," she said.
Police admitted they were enforcing the ban "extremely cautiously" because of fears of provoking violence.
They fear Muslim extremists will use the law to provoke fights with officers, while rich visitors from countries such as Saudi Arabia will also cause trouble.
"The law will be very difficult to apply on certain estates," said Patrice Ribeiro, of the Synergie police union.
Referring to two Paris suburbs where riots regularly break out because of alleged discrimination against Muslims, Mr Ribeiro said: "I can't see police going to book dozens of veiled women doing their shopping in Venissieux or in Trappes.
"It will be the same when a police officer is about to arrest a veiled Saudi who is about to go into Louis Vuitton on the Champs Elysees. In all cases, the forces of order will have to be measured and cautious in their behaviour."
Mohamed Douhane, another Paris police officer, said he and his colleagues also "expected provocation by a minority". He added: "Fundamentalist movements are eager to raise the stakes. The police know they will be held responsible for any public order disturbances."
Police have already been warned not to arrest women in or around mosques, and "citizen's de-veilings" are also banned.
The strict instructions, from Interior Minister Claude Guent, are contained in a nine page circular issued to officers.
With tensions running high within the country's six million strong Muslim community, officers have been told to look out for members of the public taking the law into their own hands.
Al-Qaeda has also issued warnings that it would attack the country following the introduction of the ban.
British Muslim radical Anjem Choudary, head of the outlawed Islam4UK which advocates Sharia law, has been permanently banned from France after trying to join an illegal protest against the measure in Paris on Saturday.
Although Belgium has approved a ban in principle, France is the first to introduce a full ban on a garment which immigration minister Eric Besson has called a "walking coffin".
While French women face fines and "civic duty" guidance if they break the law, men who force their wives or daughters to wear burkas will face up to a year in prison, and fines of up to £25,000.