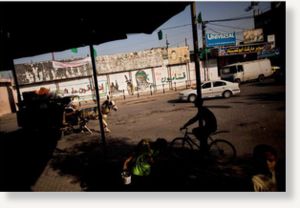 Israel and Hamas signaled on Sunday that they were willing to restore calm after days of intense fighting, and while militants in Gaza fired about 10 rockets and mortar shells into southern Israel, most fell in open areas close to the border and Israel did not immediately respond.
That represented a sharp reduction in activity since Hamas fired an antitank missile at an Israeli school bus on Thursday, critically wounding a 16-year-old boy and setting off Israeli aerial, artillery and tank fire against targets in Gaza that killed 18 Palestinians, 10 of whom were militants and the rest civilians, according to officials in Gaza.
Hamas and other militant groups fired about 130 mortar shells and rockets, including several mid-range ones, at southern Israel over the previous three days.
Israel's defense minister, Ehud Barak, said Sunday that Israel had received several messages indicating that Hamas, the militant Islamic group that controls Gaza, was interested in a cease-fire.
"If they stop firing on our communities, we will stop firing," Mr. Barak told Israel Radio.
Hamas spokesmen offered similar messages. Ghazi Hamad, the deputy foreign minister of the Hamas government in Gaza, told Israel Radio, "We are interested in calm in the Gaza Strip, but also that the Israeli Army cease operations against our people."
Salah al-Bardaweel, a Hamas spokesman, said that Israel appeared to have accepted the idea of reducing hostilities. "The factions will be committed to the lull as long as Israel is," Mr. Bardaweel said.
The Hamas government said that regional and European parties helped to achieve the lull. It thanked Egypt, but did not name the other mediators.
Still, Prime Minister Benjamin Netanyahu of Israel warned that if the attacks on Israeli civilians and soldiers continued, "The response will be very harsh."
Israeli analysts warned that a return to the tense calm that has largely prevailed in the last two years would not compensate for the lack of a more coherent Israeli strategy vis-à-vis Gaza, nor prevent another escalation with the potential of leading to an all-out conflagration.
"I believe that as far as Israel is concerned, we are continuing to follow a no-policy policy," said Efraim Halevy, a former chief of Israel's Mossad intelligence agency who is now head of the Shasha Center for Strategic Studies at Hebrew University. Israel, he said, has to "sit down and work out a policy, whether that is to destroy Hamas, or whether it is something else."
"People have to understand what the ultimate aim is," he said, adding that Hamas, too, must make some decisions.
During the relative calm of the last two years, both Israel and Hamas have upgraded the weaponry at their disposal.
The most recent escalation began when the military wing of Hamas fired a Kornet antitank missile at the school bus from a distance of about two miles. It was the first time the group used an advanced, laser-guided weapon against a civilian target.
Hamas said the attack was meant to avenge
Israel's killing of three of the group's militants
on April 2, an act that Hamas said violated an earlier cease-fire.
In another development that has changed the equation in the region,
Israel's new Iron Dome antirocket missile defense system
managed to intercept eight of the nine longer-range rockets fired out of Gaza at cities in southern Israel, destroying them in mid-air.
The success of the Iron Dome system, which is still undergoing evaluation, prevented additional damage and increased the Israelis' sense of security. Mr. Barak, the defense minister, said it provided the government with added room for maneuver and allowed for proper decision-making.
Nonetheless, independent commentators noted that the Iron Dome system could not protect Israeli communities close to the border and does not preclude the possibility of either Hamas or Israel carrying out a strike that exacts a large civilian toll, even unintentionally, and setting off a war.
Despite its clear benefits, the new antirocket system "serves as no real solution," Ben Caspit, a columnist, wrote in the newspaper
Maariv
on Sunday. "The Hamas problem in Gaza goes to the root, is strategic in nature and will not be solved by purchasing domes of various kinds."
Hamas won Palestinian parliamentary elections in 2006 and then seized full control of Gaza a year later after a brief factional war. The group has been losing popularity, leading to speculation that it may have wanted to escalate tensions with Israel in order to create a diversion. A
Palestinian poll
in March found that two-thirds of Gazans supported demonstrations in favor of changing their government.
But Amos Gilad, a senior official at the Israeli Defense Ministry, told reporters last week that the Palestinians would have to do the job of removing Hamas themselves.
Last month,
Israel intercepted a merchant ship
in open sea and seized weapons, including six advanced antiship missiles, which it said were bound for Gaza. Hamas is still holding an Israeli soldier, Staff Sgt.
Gilad Shalit
, who was captured in a cross-border raid and taken into Gaza in 2006.