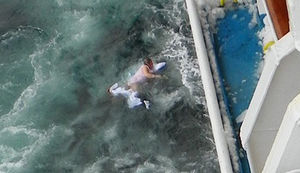 A Burscough couple were among the horrified witnesses of a bungled cruise ship rescue in freezing waters off the coast of Norway.
Colin Prescott, of Langdale Drive told
The Champion
that he and his wife Sheila were passengers on the
Ocean Princess
when a sick British woman being taken off the ship by Norwegian emergency crews was dropped on her stretcher into the icy sea.
Mr Prescott said: "The vessels, which hadn't been latched together, suddenly moved apart by several feet just as they were transferring her, which caused the rescue crews to drop the stretcher into the sea.
"We'd been told the sea was about minus three degrees that day. The rescue boat came back round to pick her up and she was taken to hospital, but she was in the water for about eight minutes or so, and I really want to find out whether she's okay."
Mr Prescott said that he and his wife had travelled on the
Ocean Princess
from Hull on March 20 to fulfill a lifetime ambition see Norway and the Northern Lights, which he described as "an unforgettable experience".
However, the couple were left shocked and concerned over the accident to the patient, who was being transferred to hospital with internal bleeding, when the rescue went wrong in the Norwegian sea on Tuesday last week.
Cruise and Maritime Voyages, who were operating the cruise, confirmed the incident took place and said that although the woman was still in a serious condition in a Norwegian hospital, her health was improving after treatment.
A company spokesperson told the
Champion
: "The lady was very seriously ill, and the captain and the ship's doctor decided that she needed to embark as a matter of emergency, because the ship was not due to dock at its next calling point until the following day.
"Under these circumstances, a rescue was launched, and although the ship is equipped with a helipad the Norwegian rescue crews decided to launch a sea rescue. Unfortunately, during this rescue the lady did fall into the sea, but she was then taken to hospital and treated.
"Although we do not own this ship, we have been in contact with the ship's owners and the Norwegian rescue authorities and a full investigation into the incident is taking place.
"We take the safety and comfort of our passengers very seriously, and although the actual logistics of the rescue was in the hands of the Norwegian rescue team, we will assist the investigation fully."
As
The Champion
went to press the woman involved in the incident, who has not been identified but is understood to have been a British national travelling on the cruise with her husband, was still being treated in hospital in Norway.