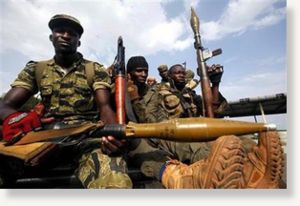 Soldiers of Ivory Coast's rival leaders battled for the presidential palace, military bases and state TV in the main city Abidjan Saturday, in a conflict becoming so brutal that it killed 800 people in one town alone.
Advancing soldiers backing Alassane Ouattara, who U.N.-certified results show won a November 28 presidential election, met stiff resistance from fighters remaining loyal to incumbent Laurent Gbagbo, who has refused to step down.
State television came back on air after fighting took it down for a day, showing Gbagbo drinking tea, saying the pictures were from his city residence Saturday. It was not possible to verify if the images were recent recordings.
A Reuters reporter heard sporadic gunfire and explosions from heavy shelling near the presidential palace throughout the morning, and clashes also raged around the office of state broadcaster RTI, back in Gbagbo's hands after the rebels had initially seized it, and some military bases in the city.
After a brief lull, heavy fighting also resumed outside Gbagbo's residence, though military sources on both sides said his forces remained in control and showed no signs of giving up.
"We are going to fight to the death to defend our territory. We die or we win," Noel Dago, a pro-Gbabgo militia fighter outside his house told Reuters by phone.
"There are a lot of deaths in both camps, but the most determined is the one who will win."
The International Committee of the Red Cross said at least 800 people were killed in intercommunal violence in the western Ivorian town of Duekoue this week.
Catholic charity Caritas said scores were also missing.
"There were very heavy killings in the wake of the advance of Ouattara's forces last week, and many people may have fled," Caritas official Jean Djoman said by telephone from Abidjan. "We think the total of dead and missing there is about 1,000."
That would bring the confirmed death toll from violence since the disputed election, in which Ouattara was the internationally recognized winner, to about 1,300.
The actual toll is likely to be much higher as forces on both sides cover up casualties.
Responding to a call on state TV to "take to the streets massively to defend the republic," many from Gbagbo's youth wing, the Young Patriots, could be seen marching up the bridges or coming on boats cheering and chanting across the lagoon toward the presidential palace, and in other strategic areas.
But there seemed nothing like the tens of thousands that he has been able to muster in the past to cause widespread mob violence and, though Gbagbo's camp has been handing out automatic weapons to them in recent days, many seemed armed with little more than machetes, sticks or tree branches.
"No Exile Plans, No Surrender"
Forces supporting Ouattara, recognized as president by African nations and Western powers, marched into Abidjan on Thursday after a swift push south meeting with scant resistance.
But they now face Gbagbo's most reliable fighters, the roughly 2,500-strong elite Republican Guard, clustered in the coastal city along with remaining regular army troops.
At least 500 Ouattara forces refueled vehicles and regrouped at a service station two kilometers north of Abidjan, now converted into one of their main base camps.
They were mostly tight-lipped about the state of fighting in the city. "All is going well, all is going well," one of them said when asked if the force had encountered difficulties.
State TV ran a statement saying Gbagbo would reject any exile offers and showed an army officer, surrounded by his troops, calling on all members of Gbagbo's security forces to mobilize to counter the offensive by Ouattara's soldiers.
Gbagbo has been hit by a number of high-level defections in the military since pro-Ouattara forces marched on Abidjan.
Ouattara's spokesman Patrick Achi said he would fall soon.
"Where is he going to go? He doesn't control the army. They are running out of ammunition. All their generals surrendered."
The African Union, former colonial ruler France, the U.S. and U.N. chief Ban Ki-moon all have called on Gbagbo to step down.
The power struggle pushed cocoa prices to record highs, but they have tumbled since on expectations exports will resume.
Ivory Coast's $2.3 billion 2032 bond, on which it defaulted in January, extended gains Friday, rising more than 3 points to a 3-1/2-month high.