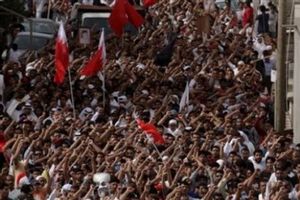 President of Bahrain's Center for Human Rights Nabeel Rajab says the US media have been ordered not to cover news on the government's brutal crackdown on Bahraini people.
Reports from the Center's colleagues in the United States say "In the US some news agencies and TV stations were asked not to report on Bahrain and not to embarrass [President Barack Obama's administration," Rajab told Press TV.
He went on to say that the US and the Western governments have chosen to keep silent over ongoing atrocities in Bahrain due to their support for the country's authoritarian regime.
According to unconfirmed reports, over 420 people have been arrested during ongoing protests in the kingdom, Rajab pointed out.
The Bahraini protesters continue to demand the ouster of the 200-year-old-plus monarchy as well as constitutional reforms.
At least 25 people have been killed and about 1,000 others injured during the government-sanctioned crackdowns on peaceful demonstrators.
Joined recently by police units and troops from Saudi and the United Arab Emirates, the Bahraini government forces have launched a deadly crackdown on the popular revolution that began to sweep the Persian Gulf island on February 14.
The Saudi-backed forces have recently been sighted while destroying religious and historical monuments of the Muslim Persian Gulf state.
On Wednesday, the Human Rights Watch accused Bahraini forces of using violence against people that had already received injuries during earlier attacks.
The rights body said it had documented several cases in which the forces had "severely harassed or beaten" patients under medical care in the country's Salmaniya hospital in Manama.