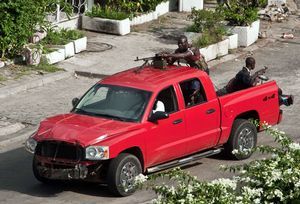 Fears were mounting of major atrocities in Ivory Coast last night as forces loyal to the Laurent Gbagbo prepared for a last stand in Abidjan.
After days of increasingly virulent anti-colonialist rhetoric from the state-controlled broadcasters, France deployed its troops to rescue French nationals from attack by young and violent supporters of Mr Gbagbo.
The news that the 1,000 strong French force had intervened underlined fears that the four-month crisis in the world's leading cocoa producer, sparked by the sitting president Mr Gbagbo's refusal to accept his defeat in landmark elections, had entered its critical phase.
Troops under the command of president-elect Allasane Ouattara were said to be "at the gates" of Abidjan, Ivory Coast's commercial capital, which has descended into chaotic violence in recent days. Supporters of the presidential rivals have carved up the city into warring neighbourhoods with armed militia controlling the streets. Witnesses spoke of people being pulled from cars and burnt alive and residents complained of being marooned in their homes by the fighting.
"We're extremely concerned about the potential for mass atrocities," said Corinne Dufka, of Human Rights Watch. "Given Gbagbo's prominent use of violent militia groups and the state-controlled media's incitement to violence we are asking UN peacekeepers to do everything in their power to protect non-combatants."
After months of resisting international calls to stand down in the wake of the November election, support appeared to be bleeding from the Gbagbo camp yesterday. His grip on the army may have been fatally undermined after its chief of staff, General Phillippe Mangou, abandoned Mr Gbagbo to seek refuge in the South African ambassador's residence.
But there was no sign of retreat from Mr Gbagbo's camp. "He will not resign in the wake of this attack. He is not going to abdicate. He is not going to lay down his arms," said Toussaint Alain, an adviser to Mr Gbagbo in Europe. "He will stay in power to lead the resistance to this attack against Ivory Coast organised by France, the United States and the United Nations."
Mr Gbagbo still enjoys the support of violent militia groups like the "Young Patriots" who have been accused by the UN of carrying out atrocities in Abidjan, and who are likely to be associated with the claimed attack on French nationals. The former left-wing university professor, who came to power in 2000 with a sharp-line in anti-colonial rhetoric, has been stoking anti-immigrant sentiment in an effort to undermine support for his northern rival Mr Ouattara.
Forces loyal to the man internationally recognised to have won November's election have raced across Ivory Coast this week seizing the official capital Yamoussoukro and the economically vital cocoa port of San Pedro. They also claimed to have taken Mr Gbagbo's home village of Mama, where he had built a lavish villa. "The soldiers slept in Gbagbo's bed," said an aide to Mr Ouattara.
Speaking from the Golf Hotel in Abidjan where he has lived under virtual siege since being declared the winner, Mr Ouattara moved to calm fears of a massacre or reprisals. In a statement, he said: "In order to end the escalation of violence in our country and in keeping with their mission to protect the population against militias and mercenaries under Gbagbo's control, [my forces] have decided to re-establish democracy and enforce the choice of the people."
Long seen as a haven of comparative stability in West Africa, the Ivory Coast has drawn in hundreds of thousands of economic migrants from across the region. Mr Gbagbo's supporters have tried to dismiss his opponent as a foreigner and militia attacks on non-Ivorians make up a large part of the nearly 500 killings since the crisis began.
A 40-year-old man from Burkina Faso told Human Rights Watch this week that he was detained in the Adjame neighbourhood of Abidjan by the police. "They asked for my ID and after seeing my name, told me to get into a 4x4 nearby," he said. He was taken along with others to a police station with a camp behind it. The men were told to head to the left if they were from Burkina Faso or Mali - as they all were.
"Then they turned left and fired on us," the man remembered. "I got shot in the arm and the kidneys and it looked bad so they left me for dead." Of the nine, six were killed, and the other three injured. "I couldn't sleep last night because of the the memories," he said.
French in Danger of Being Sucked into Violence Again
Reports from Abidjan last night suggested French soldiers were on the streets in Ivory Coast's main city, a development likely to enrage many in a country with an uneasy relationship with its former colonial ruler.
Sources told Reuters news agency that troops from the 1,000-strong French force stationed in Ivory Coast to aid a UN mission had deployed in the south of the city. This was possibly to protect French citizens as fighters loyal to the presidential challenger Allasane Ouattara marched on the commercial capital hoping to unseat the incumbent, President Laurent Gbagbo. French armoured vehicles were also seen near the presidential palace.
It would not be the first time France became embroiled in the tussle between the bitter rivals.
Ivory Coast came under French rule at the end of the 19th century gaining its independence in 1960. In decades since the country has swung from prosperity to crippling civil war, with the rivalry between Mr Gbagbo and Mr Ouattara first erupting after disputed elections in 2000. In 2004, nine French troops serving with a UN peacekeeping force were killed by soldiers loyal to Mr Gbagbo, prompting France to send reinforcements. The controversial deployment sparked demonstrations and accusations of meddling. Tensions boiled over in November that year, with dozens of Gbago supporters killed in clashes with French troops, prompted a vengeful rampage against French businesses and homes in Abidjan.
Although relations were repaired, Mr Gbagbo has accused his rival of being a French stooge, while France's foreign ministry said yesterday Mr Gbagbo should concede power to avoid a bloodbath.