Explosions and ensuing fire follow reported raid on factory by locals as President Saleh makes U-turn on exit deal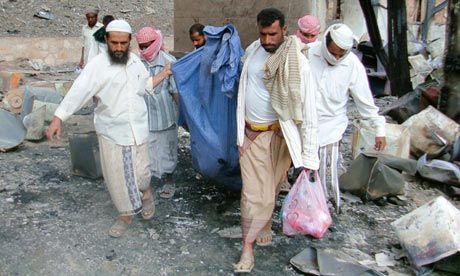 At least 121 people have died after a series of explosions at a munitions factory in southern Yemen, as President Ali Abdullah Saleh was losing his grip on parts of the country amid an anti-regime revolt.
Witnesses said the blasts occurred on Monday after locals from the town of Jaar in Abyan province broke into the factory that was stockpiled with kegs of gunpowder. An ensuing fire spread to nearby houses, killing and injuring dozens of people.
"So far we've counted 121 separate bodies but the death toll could be double that, so many of the corpses have been lost in the inferno," said Marfiz Al-Sharbi, a Syrian doctor working in a nearby private hospital. "There are tens of corpses buried in the factory too."
On Sunday, the army was said to have deserted the town after a weekend of deadly clashes with gunmen the government claimed were al-Qaida in the Arabian Peninsula (Aqap).
"We hold al-Qaida responsible for this tragic incident that killed innocent citizens who fell victim to the trap of those terrorist elements," a government source told the state news agency Saba.
Al-Qaida has not claimed responsibility for the fighting or blasts.
Abyan, a stronghold of the southern separatist movement, appears to be the latest province in Yemen attempting to secede.
Residents from the northern province of Sa'da say it is now entirely under the control of Houthi rebels who are running government facilities and manning checkpoints. Last week locals approved Faris Manna, an arms dealer, as a replacement governor after the incumbent fled to the capital, Sana'a. Police are said to have deserted their posts and relocated to army camps.
"While the government and the media focuses all its attention on the capital, other parts of the country which have long held grievances with the regime are simply falling away," said Mohammed al-Dhaheri, a political science professor at Sana'a University.
The factory explosion came after Saleh backed away from a deal agreed over the weekend that would have seen him step down immediately but keep his relatives in charge of the country's counter-terrorism forces.
The Yemeni president, who appeared emboldened after a huge pro-government demonstration in Sana'a on Friday told the ruling party, "We don't give concessions for the sake of concessions, but to have Yemen avoid the consequences of war. From now, we will not offer them anymore concessions."
Washington, which has been involved in the transition talks, and Saudi Arabia have seen Saleh as important part in curbing the spread of AQAP, which has a foothold in southern Yemen.
On Sunday the US defence secretary, Robert Gates, told ABC news: "I think it is a real concern, because the most active, and at this point perhaps the most aggressive branch of al-Qaida, al-Qaida in the Arabian Peninsula, operates out of Yemen. And we have had a lot of counterterrorism co-operation from President Saleh and Yemeni security services."
Saleh has warned western powers that Yemen would slide into chaos and a civil war if he were to be removed from power. But opposition MP's accuse him of exaggerating the threat of al-Qaida in order to extract money and continued support from the west.
"This is Saleh's last dance, he wants to magnify the threat of Al-Qaeda to fool the USA and distract attention from his incredibly precarious position," said Mohsen bin Fareed, leader of RAY, a fringe opposition party calling for a decentralised federal government in Yemen.
"The regime committed a crime by deserting the ammunition factory in the first place."