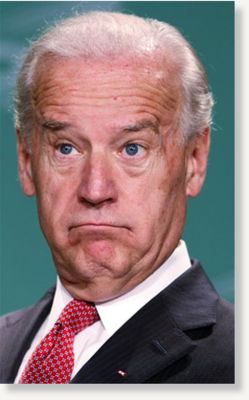 On the eve of President Barack Obama's address to the nation on U.S. military action in Libya and a recent story about a local Florida reporter who was locked in a storage closet during a fundraiser he attended for Florida Democratic Senator Bill Nelson, Vice President Joe Biden can only be found vacationing in the ritzy resort city of Aspen, Colorado, reports the
Aspen Times
.
According to the
Aspen Times
' article published on Friday, Mr Biden was described as "vacationing" in Aspen by a local sheriff after the Vice President flew in from headlining two fundraisers for Sen.Nelson in Florida:
Biden's motorcade left the Eagle County airport headed west and picked up Interstate 70 in Gypsum, traveling through Glenwood Canyon and eventually to Snowmass.
"It's a pretty low-key visit, definitely a vacation," according to Pitkin County Sheriff Joe DiSalvo.
His office and the Snowmass Village Police Department will handle Biden's local security. They'll also get lots of Secret Service protection, DiSalvo said.
Over the Presidents Day weekend, first lady Michelle Obama, her daughters and some friends visited Vail, also flying in and out of the Eagle County airport.
Biden flew to Eagle County from Florida, where he was the headliner in two fundraising events for Sen. Bill Nelson.
Controlling media access to Mr. Biden has been a priority for the White House.
An embarrassing 2007 video
of Biden surfaced last week showing then Senator Biden threatening President Bush with impeachment over possible military action in Iran, if GWB did not consult with Congress first. The vice president has yet to answer questions over that video and what it means to President Obama's recent decision to take military action in Libya without the approval of Congress. Instead, he jetted off to Colorado.
As I
wrote
in a January 2010 piece titled Obama team continues to control access to Biden, the administration keeps a tight leash on Mr. Biden's interaction with the press:
The Washington Times experienced first-hand how Mr. Biden's handlers kept the Vice President's missteps to a minimum. During the special election up in New York's 23rd Congressional District last November, Vice President Biden joined then-Democratic candidate for congress Bill Owens in Upstate New York. Mr. Biden gave a prepared speech to supporters and was ushered off stage.

Mr. Biden then worked the line and shook hands with attendees at the event. I moved toward the line with my video camera and was immediately told by Biden staffers that video and audio equipment were not allowed near the Vice President, while he was working the line. Still photographers, however, were being allowed to get close enough to take pictures of Mr. Biden's handshaking and conversations with different people. Apparently, the White House still does not trust the so-called more experienced Mr. Biden enough to speak "off script" and on the record just yet.
Earlier in the piece I referenced information Mark Halperin published in the book
Game Change
about the handling of Mr. Biden during the 2008 campaign:
The book covers Mr. Obama's frustration after Mr. Biden's gaffes became too much for the president-to-be to bear. These gaffes included:Mr. Biden's comments that he was more qualified than Mr. Obama to be president, that Mr. Obama would be tested with an international crisis, and that it was patriotic to pay higher taxes.

"How many times is Biden gonna say something stupid?" Mr. Obama angrily asked of his advisors at one point on a conference call. Speaking of conference calls, the book also says Obama campaign manager David Plouffe was questioned about why Mr. Biden was not on the nightly campaign conference call. It turned out the future vice president was on his own conference call with both Mr. Pouffe and campaign adviser David Axelrod.

Once in office, the Obama administration knew that keeping the new Vice President reigned in was not going to be easy. However, this is not to say they are not trying. Vice President Biden 2009 gaffes included talking about a tunnel (designed for trains) "which is designed for automobile traffic", forgetting Justice Steven's name, telling people to "call his website", and swearing at a former Senate colleague who greeted him as "Mr. Vice President."
Make no mistake, Biden's team will likely call the vacation a work trip as the Vice President addressed a group of disabled veterans in the Colorado town of
Snowmass
. However, according to the
Aspen Daily News
on Monday, Vice President Biden's arrival in Snowmass was "unexpected" and kept a secret.
"We have a very special - and somewhat unexpected - guest," Gould said to a full room of about 400 disabled veterans.

"Let me introduce my family," Biden said as he walked in with his wife, grandchildren, and son, who has served in the military. The family has been in Snowmass since late Thursday on a trip billed as a ski vacation.

Biden apologized for not being able to announce his appearance, but said the secrecy was due to security reasons. He then turned the subject away from himself and toward the veterans.

"I've spent a lot of time with the [Disabled American Veterans] in my 200 years in the Senate," Biden joked. "But this ain't about politics, it's about you."

Biden ended his short address with a story of a disabled soldier he visited in a hospital who had lost an arm and a leg in combat. The soldier apologized for not being able to salute Biden. Biden then asked if there was anything he could do for him. The soldier responded, "You can get me back to my unit."

Biden will be participating in the clinic's events today, but for security reasons, the details of his involvement have not been made public.

"I'm not suppose to tell you, but I'll be hiding out watching you," Biden said. "I already got my ass kicked by one guy on a sled and one guy with a prosthesis and I'm a pretty good skier."
Sounds more like the Vice President is hiding out from questions he should be answering. It's one thing for the President or Vice President to make secret surprise visits to the military in dangerous areas of the world due to security reasons but holding back information on a trip to Colorado for the same reasons just does not cut it now.