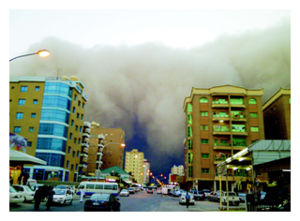 Kuwait City: A menacing black dust storm hit the country at a speed of over 50 kms per hour Friday evening, plunging the country into complete darkness before sunset. The storm reduced visibility to almost zero in some areas of the country and disrupted mobile phone services for almost 30 minutes as panicked citizens and residents tried to call to check the safety of their loved ones.
The Operations Room of the Interior Ministry received more than 200 calls for assistance; the most urgent among them was from a boat stranded in mid-sea. Nearly 100 female students were onboard and were on their way to Failaka Island when the storm came threatening. Security forces and Coast Guard members sprung into action and managed to bring the boat safely to shore.
To add to all the panic, rumors about an enormous fire near the beach spread like wild fire and subsided only when it became evident that the black cloud was a dust blanket and not smoke from a fire.
The dust storm first entered Jahra and moved towards the Capital area and then to the rest of the areas. Meteorologist at the Weather Forecast Department of the Directorate-General of Civil Aviation (DGCA) Issa Ramadan said northwesterly winds blowing at a speed of more than 50 kms per hour caused the dust storm. He and astronomer Saleh Al-Ojairi confirmed that there was almost zero visibility in some areas of the country.



Furthermore, Director of Operations Department at the Kuwait International Airport Essam Al-Zamil said due to bad weather conditions, dense dust, and strong winds, all incoming flights were diverted to airports nearby and outbound flights were allowed to take off only after the weather conditions improved.

Meanwhile, security forces, traffic patrols, fire fighters and members of Civil Defense Directorate were mobilized to tackle any accident or emergency. Patrols were deployed on all highways and the Interior Ministry urged all citizens and residents to stay indoors until visibility improves.

There were reports that northern areas of the country witnessed heavy rainfall, which helped in clearing the black dust layer to some extent. Sources say security men, even in such adverse conditions, went looking for a Kuwaiti woman in her 60s and her son who got lost in Salmi desert area. Security men found their car, but not the occupants until the filing of this report.

The dust storm heightened fear as images of destruction caused by two natural disasters in Japan are still fresh among people. One expatriate who was stuck up in a traffic jam during the ominous storm said he did not think he will reach his destination. He even tried calling his wife to say that if he doesn't make it, consider the call his last. Fortunately or unfortunately the call didn't go through and the wife was spared of some agony. He said the visibility was so less that drivers had to be '2,000 percent' sure while driving. At several points, he got down of the vehicle to manually clean the windscreen of his vehicle.