Witnesses said the initial attack lasted about three hours and heavy gunfire echoed through the streets all day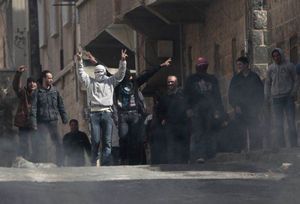 Syrian police launched a brutal crackdown on demonstrations in the restive city of Daraa yesterday, killing at least 15 people in a day-long operation that showed the regime's determination to quash the unprecedented numbers of protests in the south of the country.
According to local and international human rights organisations and witnesses, at least six people were killed in an early morning attack on the al-Omari mosque after hundreds gathered outside the building to stop police from storming it. One video posted on Facebook, which could not be verified, showed what activists said was a street near the mosque with the sound of shooting coming from nearby. "My brother, does anyone kill his people?" one voice asks. "You are our brothers."
Witnesses said the initial attack, which began just after midnight, lasted about three hours. Heavy gunfire echoed through the streets all day. Three more people were said to have been shot in the city centre after dusk, and another six bodies were found in the street. Residents told news agencies that those killed included a prominent doctor who had gone to the mosque to help victims, and a woman who had peered out of her window to see what was happening.
Daraa was effectively cut off yesterday, with mobile phone connections and electricity down. There were military checkpoints across the city. The state-run news agency sent out news alerts to mobile phones today saying four people were killed in the incidents.
It blamed the deaths on an "armed gang" and claimed that "one million SMSs were sent from outside Syria, most... from Israel inciting Syrians to use the mosques as launchpads for riots". President Bashar al-Assad moved to sack Daraa's governor Faisal Kalthoum, but Mr Assad's cousin, who heads up the region's hated secret police, remained in place. The incident brings the number of deaths in Daraa to more than 20. The unrest in the city and surrounding villages began six days ago following the arrest of more than a dozen schoolchildren who spray-painted anti-government slogans on a public wall.
So far, the government response seems to be have been taken from its old playbook of denial, propaganda and blaming Israel, a tactic that is woefully out of date, sources in Damascus said. According to a journalist in the capital, accusing Daraa residents of taking their cues from Israel is likely to provoke further anger. "They call the Western media provocative, but that is provocative," she said. "The more [the people of Daraa] are wronged, the more they will demand revenge."
Protests also occurred last Friday in the Syrian cities of Banias, Homs, Deir ez-Zor and have been held - on a much smaller scale than in Daraa - in Damascus. Political prisoners have been rounded up, most recently with the arrest yesterday of Loay Hussein, according to Syria's Observatory for Human Rights.
Several Facebook and human rights groups are calling for massive demonstrations in Damascus and other cities after Friday prayers this week. CNN reported that the protesters were chanting anti-regime slogans after yesterday's killings. Previously, they had not called for the resignation of Syria's Ba'ath Party, which has ruled the country for more than 50 years. Their grievances had instead targeted local corruption and unlawful imprisonments.
Syria, one of the more repressive autocracies in the region, had until recently avoided the unrest experienced in many of its neighbour states. As the violence escalates in Daraa, the likelihood increases that anti-government demonstrations will spread.