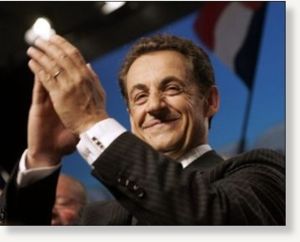 A report reveals that French President Nicolas Sarkozy worked for Israeli intelligence for a long time before he was elected president.
French daily
Le Figaro
has revealed the French leader once worked for the Zionist regime as a sayan, Hebrew for 'collaborator'.
Ex-Mossad agent Victor Ostrovsky says sayans, who perform many roles, are Jewish citizens of other nationalities assisting Mossad.
Le Figaro
claimed that French police officials managed to keep secret a letter, which exposed Sarkozy's past participation in espionage activities for Mossad.
The letter fixed Sarkozy's alleged spying activities as far back as 1983.
In the immediate aftermath of
Le Figaro's
exposé, the Zionist regime's Prime Minister Ehud Olmert was on a state visit to France to discuss Iran's nuclear program, which raised more questions about the report.
Analysts believe since Sarkozy took office in May, he has taken every opportunity to pledge his allegiance to the United States and the Zionist regime.
"Sarko the Sayan" has also followed in the footsteps of the White House by choosing a hostile approach toward Iran and its peaceful nuclear activities.