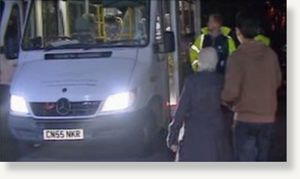 Mystery surrounds the cause of strong gas smells which caused a mass evacuation of houses and a care home in Llanelli.
Hundreds were allowed to return home at about 2200 GMT on Wednesday after people had been moved to safety because of a suspected chemical leak.
Tests by environmental health and Welsh Water did not detect chemicals.
A precautionary cordon had been set up around homes within a square mile of Thomas Street.
Firefighters were called to Felinfoel Road in Llanelli at 1755 GMT by Dyfed-Powys Police.
Residents at Caeffair care home were led to safety, along with local residents and people at the Thomas Arms pub.
Mid and West Wales Fire and Rescue Service sent six appliances and a specialist unit to deal with suspected chemicals at the scene.
The council's emergency planning team were also called out.
Some of those who were evacuated were taken to the Diplomat Hotel.
Some residents criticised authorities, saying they did not feel enough information was given to people as they were evacuated.
Charlotte Gasser, 22, from Gilbert Crescent, said: "They said it was chemical. Whether it was a gas leak or chemical they didn't know.
"There was no hotline to phone or anything. They couldn't really tell us anything."
Insp Frank Phillips of Dyfed Powys Police said: "I appreciate the significance this disruption caused to the residents of Llanelli and thank them for their co-operation."
Llanelli councillor John Jenkins said the area evacuated was about a square mile in size.
He said: "It was centred near the Thomas Arms public house but they evacuated houses nearby in Old Road, Felinfoel Road and as far up as Parc Howard.
"About 500 houses were evacuated.
"There was a sizeable emergency presence and they blocked off a lot of roads around the area so there was a bit of traffic chaos in Llanelli."