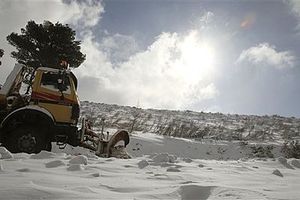 A severe winter storm has swept over much of Greece and Turkey, disrupting travel, closing schools and knocking out power.
The storm, which began on Monday, continued unleashing high winds and snow into Wednesday.
High winds raking southward over the Aegean Sea made for a serious marine hazard for shipping. Ferries linking the many islands and mainland ports were subjected to cuts in service.
Ships were not allowed to sail from Piraeus and a number of other ports, reports said.
On the island of Limnos, winds surged above 70 mph at times; Mikonos and Santorini weathered 60-mph gusts.
In Athens, the storm brought top wind gusts of 50 to 60 mph on Tuesday amidst falls of wet snow and numbing cold rain. Temperatures dipped to near freezing.
Snow-slick pavement slowed travel on area roads, and some schools and businesses were reportedly shut.
At Tripolis, on the southern mainland, the storm left about 6 inches (15 cm) of snowfall as temperatures dipped to 25 degrees F (-4 degrees C).
In Turkey, high winds blasted the Aegean coast as snow piled up across much of the interior.
Near-freezing winds to 40 mph whipped Istanbul Wednesday amidst a steady fall of snow.
Well inland, snow depth topped half a foot (15 cm) in the capital city of Ankara, and snowfall was more than one foot (30 cm) at Afronkarahisar, in the middle west.
The storm was spawned at the start of the week by a blast of cold air out of Russia and Ukraine that swept over the Black and Aegean seas to the eastern Mediterranean.