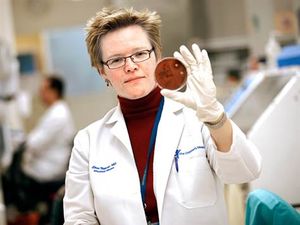 Spate of serious infections caused by rare bacteria sparked massive recall, investigation
It took fast-acting doctors at a Colorado hospital to flag problems with tainted alcohol wipes now tied to a massive recall and growing reports of potentially deadly infections, including the case of a 10-year-old boy already battling leukemia.
Medical experts at The Children's Hospital in Aurora said they became alarmed last fall when a few youngsters developed bloodstream infections caused by the rare bacteria
Bacillus cereus
.
"It just didn't make sense," said Dr. Christine Nyquist, the hospital's medical director of infection prevention. "Based on the kind of patients they were, the organism, the bacteria, didn't make sense."
They included Peyton Armstrong, 10, of Glenwood Springs, Colo., who developed a high fever and intense pain last October within 12 hours of placement of an IV line and a medical port to start chemotherapy treatment for leukemia.
"He was on the brink of death," said Jessica Armstrong, 40, Peyton's mother. "The cancer didn't even matter at that point."
Within weeks, hospital officials were stunned to confirm that Peyton's infection - along with what Nyquist would describe only as "a couple"of others - was caused by contaminated alcohol wipes produced by the hospital's sole supplier: the Triad Group of Hartland, Wis.
Hospital used 2,500 wipes a day
"This is something really common in use in hospitals," said Nyquist, noting that the hospital uses about 2,500 wipes each day. "When that is identified as the common source, everyone kind of goes, 'Wow.'"
Federal Food and Drug Administration officials credit the hospital with sparking
an investigation
that led to Triad's voluntary recall of hundreds of millions of alcohol swabs, wipes and pads widely used in hospitals, clinics and homes. Michael Rogers, the FDA's acting director of the Office of Regional Operations, said inspectors were sent to the plant on Nov. 29, 2010, immediately after receiving The Children's Hospital report.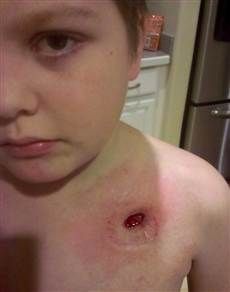 However,
the FDA's own internal inspection documents showed that the agency knew of problems with contamination and sterilization at Triad as early as 2009.
Rogers has said the FDA was working with Triad to correct conditions voluntarily and that, at the time, officials didn't believe the plant's practices posed an "imminent health hazard."
In an e-mail to msnbc.com, Eric Haertle, Triad's chief operating officer, said he couldn't respond to questions about sterilization and contamination at the plant because of pending litigation.
The situation is heartbreaking for Jessica Armstrong, who said doctors told her that Peyton's infection was the impetus for the FDA inspection that confirmed that contaminated wipes were distributed to the public.
Already worried about battling leukemia, Armstrong said she and her husband, Noel, 42, a podiatrist, were shocked beyond words that their son was sickened by a tainted cleansing product.
"The thing they used to clean his skin instead put a deadly infection in his body," she said.
Peyton's infection delayed the start of vital treatment for chemotherapy and intensifed the boy's anxiety about future care, says his mother.
"He worries that when he gets infected, he will die," said Armstrong, who helped her son through a grueling phase of chemotherapy last week. "And all pain is associated with being infected."
Peyton's infection is only one of a growing number of horror stories blamed on the Triad wipes. Msnbc.com previously reported that infections with
Bacillus cereus
tied to the wipes led to open-heart surgery for Joe Postich, 55, of Madisonville, Tenn., and to the death of Harrison Kothari, 2, of Houston. In addition, more than 100 people have now reported other potential infections related to the wipes, according to Houston lawyer Jim Perdue Jr., who represents the Kotharis and expects to file a lawsuit soon on behalf of the Armstrongs.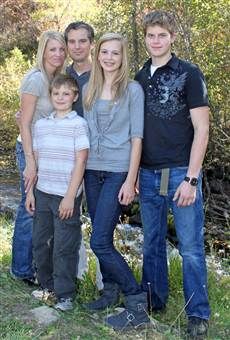 Nearly a million cases recalled
On Jan. 3, the Triad Group recalled all lots of alcohol prep pads and wipes, including many sold under the private labels of grocery stores such as Safeway and Kroger and drugstores such as Walgreens and CVS.
The recall covered 975,922 cases of product containing hundreds of millions of individual items, according to FDA documents. The alcohol products are sold in Canada and Europe as well as the United States.
The products were suspected of being contaminated with
Bacillus cereus
, bacteria that are common in the environment and sometimes associated with foodborne illness, but not usually with hospital-acquired infections. It's a spore-forming bacterium that can survive the 70 percent isopropyl alcohol solution used in the wipes, microbiologists say.
In addition, Triad Group also recalled lots of sterile lubricating jelly in December after the same inspection confirmed problems with contamination and sterility.
The FDA cannot confirm how much of the tainted alcohol product actually has been removed from use, said spokeswoman Shelly Burgess. It's possible that the Triad wipes and pads are still in use by people who already had them in their homes.
The agency is continuing to investigate the Triad situation, Burgess, the FDA spokeswoman, said. According to protocols, the FDA has the ability to seize products or to seek legal action, such as permanent injunction that would bar the firm from making or distributing its medical supplies.
So far, the FDA has issued no warning letters or other consequences to H&P Industries, which does business as the Triad Group.
That's "unfathomable" to Jessica Armstrong, who has been in contact with Sandra Kothari, mother of the Houston toddler who died after contracting bacterial meningitis caused by a Bacillus cereus infection. His parents blame the tainted wipes.
"We both share a mission that this should never happen to another child," Armstrong said.