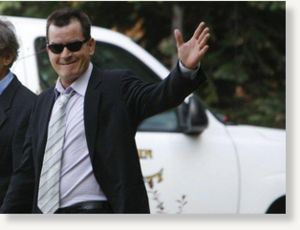 Troubled US actor Charlie Sheen rounded off a rollercoaster week by claiming that he couldn't be anti-Semitic because he is Jewish -- and saying he is off to Haiti, to help out there.
Sheen, whose children were taken away from him a week after the hit TV series in which he stars was cancelled, said he should have mentioned his Jewishness when he was accused of anti-Semitism last week.
"My mom is Jewish. Here's where it gets confusing -- we don't know who her father was," he told the TV show
Access Hollywood Live
. "But she is, in fact, Jewish. So, I guess that would make me Jewish, and my children Jewish.
"And Brooke, my ex-wife is Jewish. So, I guess I should've rolled all that out too," he added.
Challenged about why he didn't mention this earlier, he added: "I know, I know -- stupid me .. I just got caught sleeping. Caught napping. Which is rare for me."
The comments came a week after hit TV show
Two and a Half Men
was canceled for the rest of the season following Sheen's repeated attack on its producer, Chuck Lorre.
Sheen notably referred to Lorre by the Hebrew translation of his name, Chaim Levine, drawing condemnation from the Anti Defamation League lobby group which described it as "borderline anti-Semitism."
After TV network CBS pulled the plug, the actor took to the airwaves in a series of rambling TV interviews this week, prompting his spokesman to quit.
Then on Wednesday he revealed that his twin two-year-old sons Max and Bob had been taken away by police, after their mother had filed a restraining order, alledging that Sheen had made death threats.
At the same time he launched his own Twitter feed, which was an immediate sensation, and by the end of the week had more than 1.6 million followers on the micro-blogging site.
In his latest interview Friday, Sheen revealed that he plans to travel to quake- and disease-wracked Haiti, with actor friend Sean Penn. "We're going to do a couple things first and then it looks like we're heading down," he said.
"I'm excited as hell because, you know, if I can bring the attention of the world down there, then clearly this tsunami keeps cresting," he added.