lla was cooled to a 'hypothermic state' for 72 hours to reduce brain swelling
A stillborn baby which bled to death in the womb was miraculously revived after a staggering 25 minutes.
When Rachel Claxton gave birth to daughter Ella, she was only 3cm dilated and her placenta had ruptured causing her newborn to die in the moments before she was born.
Doctors battled for nearly an hour to bring the tiny tot back to life and amazingly - just as all hope was feared lost - a faint heartbeat was detected.
But little Ella, now nine months old, still faced another battle as her brain had been starved of oxygen for so long.
In a last ditch attempt to preserve her quality of life, her parents signed her up for an experimental cooling treatment which saw her placed in a hypothermic state for 72 hours.
Amazingly, once the treatment was over and Ella's temperature was raised back to normal, scans showed no abnormalities in her brain.
Now Rachel, 32, from Peterborough, is campaigning alongside partner Jason Anderson, 33, to put the revolutionary cooling treatment which saved her baby into more hospitals around the country.
She said: 'When Ella was born she came out in two pushes. I'd held her for no more than two seconds when the midwife told Jason to pull the emergency cord.
'All of a sudden, there was doctors everywhere and medical staff were bringing in bag after bag of blood.
'The midwife was crying, Jason was crying and no one could tell me what was going on.
'I begged them to tell me what was happening, but I already knew she was dead because it had been so long and I still hadn't heard her cry.
'Then, after what seemed like an eternity, I heard someone say: 'She's with us.' I couldn't believe it.'
Three hours later, the couple were permitted to see their daughter in intensive care where they were given another devastating blow.
Ella had been dead for 25 minutes and it was thought she had suffered hypoxic ischemic encephalopathy (HIE) during this time - brain damage caused by lack of oxygen and lack of blood flow to the brain.
During the labour, Rachel's placenta had ruptured, starving Ella's brain of oxygen. Rachel said: 'The doctors told us to prepare for the worst and that they didn't think she would make it through the night.
'They said that even if she did survive, she would have serious brain damage and might not be able to walk or talk and wouldn't even have a sucking reflex.
'But we didn't care as long as our baby was alive. That was all that mattered to us.'
The decision was taken to transport Ella 30 miles from Peterborough District Hospital to Addenbrookes Hospital, in Cambridge, where a revolutionary cooling treatment was available to reduce the damage to her brain.
A cooling blanket was used to take Ella's core temperature down from around 37C to 33.5C, reducing the swelling around her brain and giving her a fighting chance to live a normal life.
Hypothermia is defined as any body temperature below 35C and a change of just one or two degrees can be deadly.
Jason, a window cleaner, said: 'When we went to see her in the hospital, she was wired up to every machine and tube imaginable.
'I laid my hand on her head and she was ice-cold to the touch.'
After a tense wait of 72 hours, Ella's temperature was slowly raised by half a degree at a time and, at 11 days old, she was finally allowed home with her parents.
Since then, the smiling tot has thrived, stunning doctors with her incredible progress.
She still needs some physiotherapy, but scans have shown no abnormalities on her brain and Rachel and Jason are confident she will continue to amaze them.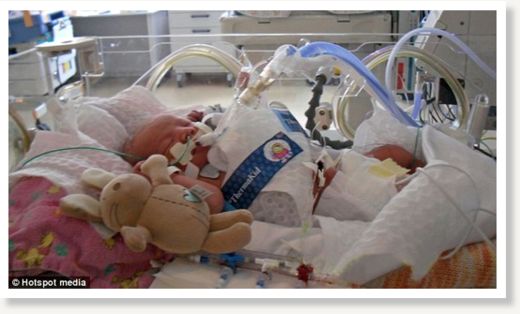 Rachel said: 'In the hospital, I couldn't wait to hold her for the first time and give her a warming hug.
'We still can't be sure of the future or what problems she might face, but so far she's gone from strength to strength.
'She's our little miracle and every day she gives us new hope.'
Dr Topun Austin, Ella's consultant paediatrician at Addenbrookes, said cooling treatment can significantly help babies who, like Ella, suffer a lack of oxygen to the brain during birth.
However, the treatment is not available in every hospital and vital hours are often lost transferring babies to other units.
He said: 'Cooling is now universally seen as the standard of care for all infants who suffer from a lack of oxygen at birth, like Ella.
'It is very important that infants eligible for this cooling treatment are identified early, as the sooner cooling starts the better.
'However, once identified they have to be transferred to the regional neonatal intensive care units such as Cambridge, Norwich or Luton for ongoing specialist care - of which cooling is just part of the management.'
He is backing a campaign to raise £7 million for the Rosie maternity hospital in Cambridge where it is hoped more babies will be able to benefit from this unique treatment.
In addition, Rachel and Jason have started a Facebook campaign to help raise money for the cause.