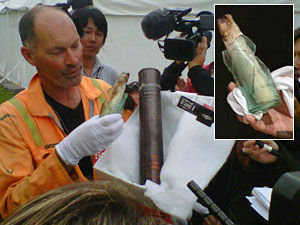 Contractors working in the Christchurch Square area have unearthed two artefacts, exposed by the force of the 6.3 quake a week ago.
Christchurch Mayor Bob Parker presented the two time capsules at a media briefing today - and says he hopes they will serve as a symbol for the city's recovery.
The capsules, a glass one with a hand-written letter on gold parchment inside, and the other yet to be opened but in a metal container, were found beneath a statue of founding citizen John Robert Godley at Cathedral Square.
It was found by one of the crane operators for Daniel Smith Industries (DSI) and his boss said his first thought was to contact Parker.
DSI's Sean Haggerty said the capsules were up about three metres in the air.
"I saw Godley lying there [statue] and nobody knew the time capsule was there in the plinth ... I'm a bit gobsmacked to be honest.
"We're going to have to wait and see what's in there. I would like to part of helping Godley get up on his plinth and .... we should perhaps get him up and show Christchurch that it started here and let's start again."
Parker said he hoped the letter in the glass bottle would be opened in time, but for now it and the other capsule have been given to Canterbury Museum to look after.
"These may contain the vision of our forebears," Parker said.
"We think when we open these we will gain extra understanding of why they came here, why they wanted to be here..."
Anthony Wright, director of Canterbury Museum
, said the capsule in a metallic tube looked as though it had been sealed with solder.
"I think we need to get these into very stable conditions," he said.
"Parchment, in my experience, is very, very strong and stable so hopefully we will be able to un-roll it and see what the message is inside."
Wright said he guessed the time capsules could be more than a 100 years old, and said the parchment one had the smell of "faintly blue cheese".
But in a time when people are waiting for some good news or a bit of lightness, he said this was one thing that had people captivated.
"It's one of those symbols of hope, it goes right back to the founding of Canterbury, it's great in all this turmoil to have these icons of where we've come from."
Parker said he had asked his staff as a matter of urgency to ensure that the statue of Godley is repaired and that the plinth in the Square be checked and made safe.
"The first thing that we will do in our city is put back up on that plinth, the man whose vision it was that meant we were here in this place.
"He came here to lay out the streets, to plan this place, to build a new future. That statue was toppled and broken in the earthquake and it will be repaired."
He said putting the statue the back in its place would be a symbol of the city's intention "to re-enrich the vision of our founders".
But he said: "We want to honour not just those who founded this place, but honour those who have given their lives in this dreadful earthquake."