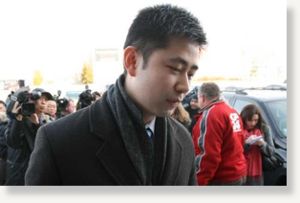 A couple accused of making the husband's mother live in a freezing garage since last November has been denied bail, following a video-link courthouse appearance here Tuesday morning.
Kwong Yan, 43, appeared from Toronto East Detention Centre wearing an orange prison suit. Qi Tan, 28, appeared from Vanier Centre for Women.
Yan and Tan turned themselves in to police on Friday, said David Hao, a lawyer who appeared on the couple's behalf at the Ontario Court of Justice.
Police charged them with failure to provide the necessities of life and criminal negligence causing bodily harm after Yan's 68-year-old mother was found by paramedics last Wednesday, in response to a call from Yan.
Police said the woman was unconscious, frostbitten and malnourished.
Hao, who said he has not officially been retained, said the couple came to see him Thursday at his North York, Ont., office, a day before giving themselves up to police.
"They were mainly upset about their mother's illness and not about the charges pending against them," Hao said.
The court remanded the couple into custody and set their next appearance for March 15 at College Park courthouse.
Investigators are attempting to determine why the woman had been relocated from the home into the inhospitable garage. Toronto Police Const. Tony Vella confirmed there were tenants renting space inside the home, but that there was "plenty of room."
"It is my understanding that there were rooms in the house she could have lived in," he said.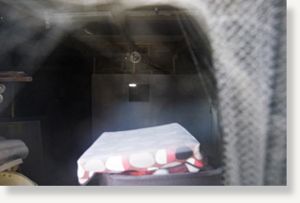 The woman is believed to have been living alone in the freezing garage, hungry and sleeping on a piece of plywood, for months before police found her.
A young man living across the street said he had not seen the garage opened in years. What police found inside, Vella said, was appalling.
"It was just not a place for anyone to be living," he said, noting the elderly woman "was not properly being taken care of. She was not being given proper food; she was unconscious. There was frostbite and some injuries to her body."
The woman was sleeping on what police dubbed "a makeshift type of bed" made of a piece of plywood. It was unclear whether there were any blankets or pillows, but Vella said there were few other amenities save for a portable toilet "that was not cleaned out," and overpowered the garage with the smell of urine.
Exactly how the situation got so bad remains unclear, but what police know is this: until November of last year, the woman was living inside her son's home in Agincourt, a Scarborough neighbourhood in Toronto's east end.
As the bitter winter chill began to descend, Yan and his wife moved the woman from their home into the uninsulated garage. It's only source of heat was a dryer vent that allowed in a small amount of warmth, but not enough to dispel the cold.
Her son and daughter-in-law allegedly failed to provide the victim with adequate food, police said, leaving her increasingly malnourished.