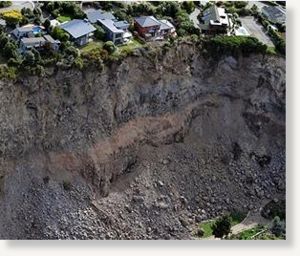 The scale of devastation in quake-hit Christchurch is comparable with the destruction wreaked in the 2010 Haiti earthquake, New Zealand's former premier Helen Clark said Monday, as rescuers prepared for the final death toll to rise above 200.
The stark assessment came with much of the city lying in ruins after last Tuesday's 6.3-magnitude quake caused widespread death and destruction, toppling buildings and tearing up roads.
"The building damage I've seen compared with Haiti," Clark, who now heads the United Nations Development Program, told Radio New Zealand Monday, referring to the massive quake which killed at least 220,000 in the Caribbean island in January last year.
"Let there be no mistake, New Zealand has suffered a tragedy of monumental proportions and it's going to require every ounce of recovery in this country to push through from this," she added.
The death toll in Christchurch reached 147 late Sunday but police fear more than 50 still listed as "unaccounted for" lie dead in the rubble.
Asked if he expected a final toll of 200, district commander Dave Cliff relied: "Yes, and probably a little higher than that ultimately."
Cliff said search-and-rescue teams continued the grim task of scouring the wreckage in the stricken city, where no one has been found alive since a woman was pulled from a collapsed office building on Wednesday afternoon.
Key's cabinet was scheduled to meet Monday to discuss how to rebuild the stricken city as the naval ship HMNZS Canterbury headed to Christchurch from the capital Wellington with emergency supplies including water, fuel and fire tankers and temporary bridges.
Sanitation remains a major problem after the tremor destroyed sewerage infrastructure, with mayor Bob Parker saying city authorities had been forced to pump raw sewage into the sea near Christchurch's beaches.
"It's not something we enjoy doing but (it's) absolutely essential to get some capacity in the waste water system," he told TVNZ.
Office blocks folded like packs of cards in the violent tremor, which left a third of the downtown area facing demolition.
Police said they still held out hope of a miracle survival in the disaster zone but, with many ruins teetering on the brink of collapse, even the task of recovering bodies had become a frustrating and perilous exercise.
"I know that they (rescuers) can see bodies that they're trying to get out, it's tragic," police superintendent Russell Gibson told Radio New Zealand.
Many of the dead are believed to be in the Canterbury Television (CTV) building, which was engulfed by flames after tumbling down in the seismic jolt.
It housed an English language school attended by scores of mainly Asian students, prompting New Zealand to assure Japan and China it would investigate why stringent building standards failed to prevent the catastrophic collapse.
Students from the Philippines, Thailand and South Korea are also among those feared dead at the CTV site.
Around the city, which has suffered two major earthquakes in six months, shell-shocked residents gathered on Sunday at services to remember the dead.
Many were held outdoors because the quake destroyed a large number of churches, including the city's landmark cathedral, where up to 22 people are believed to be entombed.