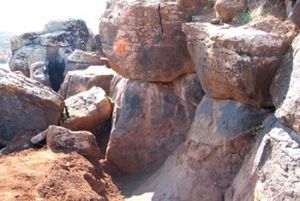 Syria (Daraa) - The discovery of a Neolithic settlement at al-Maysara archaeological site in 2003, 4 km south east of Daraa governorate, represented a turning point in the history of archaeological discoveries in the governorate.
A preliminary archaeological survey of Yasser Abu Noktah revealed caves, stone grinders and stone mortars and pestles in the area.
In a statement to SANA, Director of Daraa Museum Ayham al-Zoubi said a number of archaeological surveys over the last few years indicated to the presence of prehistoric societies at al-Maysara archaeological site.
He added that the studies of archaeological findings uncovered at the site showed that they belong to the Neolithic Period (8000-5500 B.C.).
Excavation works in 2004 unearthed a number of stone scrapers, awls, spears, arrowheads and axes of different sizes generally used for daily life activities, farming and hunting, he said.
He pointed out that the tools are very much similar to those prevailed at the beginning of the 10th millennium, marking the Mesolithic and Epipaleolithic period.
Damascus University archaeological mission has also unearthed 1200 firestones dating back to 250000 B.C. at the archaeological sites of Wadi al-Sharar and al-Khawabi, near to al-Maysara site. (SANA)