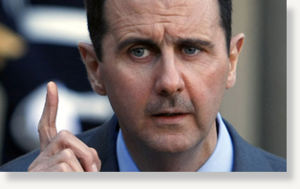 Nervous regime breaks up protests and sends intelligence agents round to warn civil rights activists against taking action
Tensions are mounting in the Syrian capital, Damascus, after the third peaceful demonstration in three weeks was violently dispersed on Wednesday. There are increasing reports of intimidation and blocking of communications by secret services in the wake of violent unrest in neighbouring Arab countries.
Fourteen people were arrested and several people beaten by uniformed and plainclothes police on Tuesday after about 200 staged a peaceful sit-in outside the Libyan embassy to show support for Libya's protesters.
Witnesses said at least two women were among those beaten.
The demonstrators carried placards reading "Freedom for the people" and "Down with Gaddafi", and chanted slogans such as "Traitors are those that beat their people."
Witnesses said authorities warned the group to disperse but they reconvened shortly afterwards in the central neighbouring suburb of Sha'alan. When they tried to march back to the embassy they were met with a heavy police presence.
Several witnesses told the
Guardian
there were nearly twice as many secret and uniformed police as protesters. Some protesters were punched, kicked and beaten with sticks..
All present had their identities recorded. Fourteen people were detained but later released, Human Rights Watch in Beirut confirmed.
"They hit two girls, I saw them on the ground crying," said a witness who was briefly detained.
"There were so many of them, we didn't know where they all came from."
Under emergency law, public congregations are banned in Syria. This kind of protest is very rare but last Friday 1,500 people took part in a seemingly spontaneous demonstration outside the central Hamidiyah souq. It was reportedly in protest at the police beating of a local shop owner, rather than being directed at the government. People chanted "The Syrian people will not be humiliated", "Shame, shame" and "With our soul, with our blood, we sacrifice for you Bashar" in reference to the country's president, Bashar al-Assad. Syria's interior minister has promised an investigation.
On 2 February Human Rights Watch reported a group of 20 people in civilian clothing had beaten and dispersed 15 people who had been holding a candlelight vigil in Bab Touma, Old Damascus, for Egyptian demonstrators. Police detained then later released Ghassan al-Najjar, an elderly leader of a small group called Islamic Democratic Current, after he issued public calls for Syrians in Aleppo to demonstrate for more freedom in their country.
The increase in demonstrations has been matched with an apparent crackdown on communications and movement in the country, despite public pledges of media reform from Assad earlier this month and a much-publicised lifting of the ban on Facebook and other social networking services.
Internet users who previously used international proxy servers to bypass local firewall restrictions now claim they no longer use Facebook anyway, fearing it is being closely monitored.
Civil rights campaigners have told the
Guardian
that initimidation tactics have escalated to include visits from agents of the Mukhabarat - intelligence services - as well as close monitoring of internet and telephone conversations. Some activists have been warned not to leave the country.
There are unconfirmed reports of a crackdown on foreign journalists working in Syria. At least two reporters have been denied entry to the country.
"The situation is tense, they are clearly nervous," said one analyst, who refused to be named.
"We didn't think it was possible here but maybe it could happen after all."