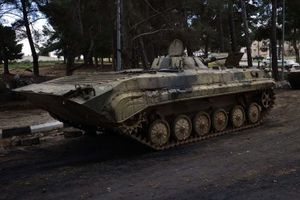 High-ranking members of the Libyan army have resigned and joined the protesters following the fall of several cities in the east of the country.
Earlier in the day, several intelligence and military officials handed in their resignations in the city of al-Bayda. They denounced Muammar Gaddafi and said they were joining the protesters.
In the city of Benghazi, Security Chief Ali Huwaidi has also quit, issuing a video statement saying, "I am Brigadier Ali Huwaidi, the director of Benghazi's security popular committee. I tendered my resignation and I am ready to stand behind the youth,"
The Huffington Post
reported.
Gaddafi has blamed the violence on young people, stating on national television that drugs and al-Qaeda are influencing them.
Reports say that Saif al-Arab, Gaddafi's youngest son, who was sent by his father to cooperate with Libyan security forces in the massive crackdown on pro-democracy protesters, joined forces with the demonstrators on Thursday.
On Monday, two Libyan air force colonels defected to the Mediterranean island of Malta to protest orders to strike pro-democracy demonstrations in Benghazi.
Meanwhile, the latest pictures from the city of Benghazi show deserted army bases, tanks and other military equipments. This area was the scene of massive battles between protesters and the army three days ago.