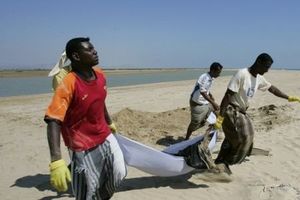 Nearly 57 Somali immigrants have drowned after their boat overturned during a wind storm off the coast of Bir Ali in southern Yemen.
Fifty-four of those who died were Somali refugees, while the remaining three were smugglers, the United Nations High Commissioner for Refugees (UNHCR) confirmed on Thursday.
The only survivor of the Sunday incident swam for 23 hours before reaching Yemeni coast near the port town of Bir Ali, some 400 kilometers east of Aden.
As of late Wednesday, twenty-three bodies have been recovered. It is not clear yet how many of the migrants have survived.
It has been the largest loss of life in the seas between Somalia and Yemen in a single incident since January 2008.
Every year, hundreds of thousands of Africans flee to Yemen in search of a better life due to poverty and violence back home.
In 2010, Yemen cooperated with the International Organization for Migration to help return about 800 Africans to their native countries.
Africans continue to arrive in Yemen almost daily, fleeing deteriorating conditions mainly in the Horn of Africa countries of Somalia and Ethiopia.
There are more than one million African migrants in the country, according to recent statistics.