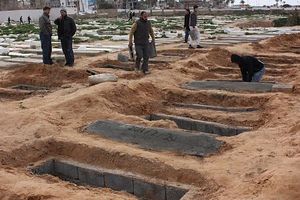 The Libyan regime is facing growing international condemnation over its brutal crackdown on pro-democracy protesters as the death toll from the country's revolution climbs.
EU foreign policy chief Catherine Ashton said Wednesday that the 27-member bloc has decided to suspend talks with Libya on the EU-Libya Framework Agreement and promised to "take further measures" in response to the brutal violence against Libyan civilians.
The UN Security Council has also condemned Libya's deadly crackdown on the pro-democracy protesters and demanded an immediate end to the violent repression of peaceful demonstrations against Libyan ruler Muammar Gaddafi's regime and expressed "deep regret for the death of hundreds of civilians."
A statement from the 15-member council called for those responsible for the violence against protesters to be brought to account and said Libya's regime had to "address the legitimate demands of the population."
The African Union (AU) also slammed the brutal crackdown on civilians in crisis-hit Libya, asking for an end to the suppression of the pro-democracy protesters.
The African body said in a statement issued on Wednesday that it "condemns the disproportionate use of force against civilians and deeply deplores the many human lives lost so far."
US President Barack Obama condemned the "outrageous" crackdown by Libyan security forces on protesters and said Washington would work with international partners to hold Gaddafi's government accountable.
"The suffering and bloodshed is outrageous and it is unacceptable. So are threats and orders to shoot peaceful protesters," Obama said in his first public comments on the violence in Libya.
Indonesian President Susilo Bambang Yudhoyono on Thursday deplored the Libyan government's violent crackdown on protesters and warned that the unrest could threaten the global economy.
This comes just a day after Gaddafi pledged to fight the intensifying revolution against his four-decade-long grip on power.
As many as 1,000 Libyans have so far been killed by the Libyan forces under Gaddafi's rule.
A total of 130 Libyan soldiers have been executed for refusing to open fire on anti-Gaddafi protesters.
Gaddafi, who came to power 41 years ago in a bloodless military coup, delivered a televised address on Tuesday in which he vowed to fight on to his "last drop of blood" and called on his supporters to take to the streets to confront the pro-democracy protesters.
He also declared that he has no intention of relinquishing power and referred to the protesters as "rats and to be held to account d cockroaches."