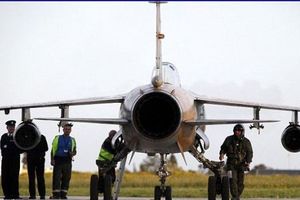 A plane possibly carrying Gaddafi's daughter has been refused a permission to land and was sent back to Libya after flying over Malta in an unscheduled flight, reports say.
Malta International Airport denied landing rights to a Libyan Arab Airlines aircraft, reported to be carrying Libyan tyrant Colonel Muammar Gaddafi's daughter, Ayesha, on Wednesday.
The plane circled for 20 minutes before heading back to Libya, Reuters reported.
A plane carrying several family members and Gaddafi's wife to her home country of Lebanon was also denied a landing permission.
The pilot of the ATR42 turboprop aircraft provided the airport with details from a previous flight, supposed to have landed in Malta on Tuesday, reports said.
Gaddafi has rejected calls to step down from his 42-year rule over Libya, threatening instead to crush the popular revolution and its supporters. The government has used air raids to suppress the demonstrations.
Some 1,400 people have been killed by Libyan security forces in bomb attacks against pro-democracy demonstrators in the North African country.