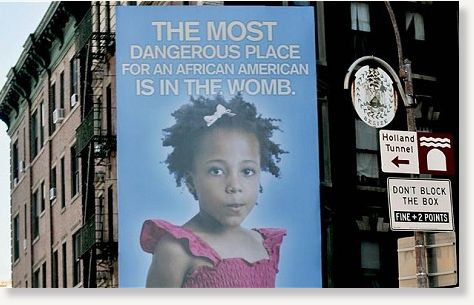 An anti-abortion billboard featuring a young black girl and the slogan "the most dangerous place for an African-American is in the womb" has provoked sharp criticism in New York.
The poster advertises a Texas-based group called Life Always, which campaigns against what it calls a "genocidal plot" against unborn babies. It is on display in the SoHo area of Manhattan.
On its website, Life Always states: "Abortions among African-American women are three times that of the rest of the population. Over 25 per cent of the next generation is being wiped out as we speak".
Bill de Blasio, the city's public advocate, described the advertisement as "grossly offensive to women and minorities". "This billboard simply doesn't belong in New York City," said Mr de Blasio.
"Common decency demands it be taken down." Christine Quinn, the Speaker of New York city council, said: "To refer to a woman's legal right to an abortion as a 'genocidal plot' is not only absurd, but offensive to women and to communities of colour".
Stephen Broden, a member of Life Always's board of directors, said the billboard - which has been timed to coincide with Black History Month - would be the start of a nationwide advertising campaign.