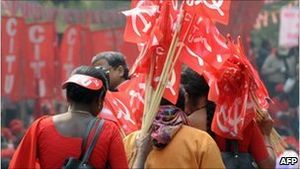 Thousands of people have gathered in the Indian capital, Delhi, to take part in a rally to protest against rising food prices and unemployment.
A steady stream of protesters, carrying red flags, has been marching through the streets of central Delhi since early morning.
The rally has led to massive traffic jams in the city.
Trade unions who have called the rally say nearly 40,000 people will attend a meeting at the Ramlila grounds.
Thousands will then march to parliament, they say.
Security is tight across the city with thousands of policemen deployed at the rally ground and along the route of the march.
The protest has been organised by major trade unions, including the All India Trade Union Congress (AITUC) and the Centre for Industrial Trade Union (CITU).
The Indian National Trade Union Congress (INTUC) - which is backed by the governing Congress party - is also supporting the strike saying it wants to remind the government about its commitments to the poor.
A CITU statement said workers from 19 states, thousands of women among them, were participating in the march.
Food inflation has been consistently rising in India, pushing up household budgets.
The cost of pulses, milk, wheat, rice and vegetables has gone up sharply. Finance Minister Pranab Mukherjee has said food prices are an "area of concern".