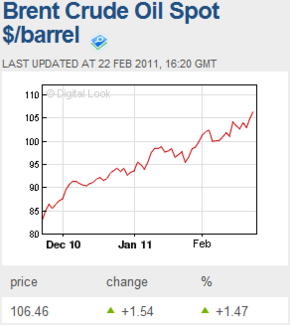 Oil prices have risen further on worries that supplies could be disrupted if unrest continues in Libya and spreads across the Middle East.
US light, sweet crude was up $0.49 at $95.91 a barrel, and had hit $96.25 earlier on Wednesday. It has now risen almost $10 since the start of the week.
Brent crude was $0.77 up at $107.57 a barrel, having hit $107.66 earlier.
Total has become the third major European oil company to suspend production in Libya.
Spanish oil firm Repsol and Italy's ENI suspended operations in the North African country earlier this week.
Libya is the world's 12th-largest exporter of oil and the majority of its output goes to Europe.
High quality
Saudi Arabia's Oil Minister Ali al-Naimi tried to reassure markets on Tuesday that his country's spare production capacity could help "compensate for any shortage in international supplies".
However, oil industry analyst Mehdi Varzi told the BBC World Service that he estimated that the unrest could be affecting "up to a third" of Libya's total crude oil exports.
Mr Varzi said it would be difficult to compensate for the loss of these supplies.
"They are of extremely high quality in terms of crude... and this kind of crude is very difficult to replace, even if the Saudis want to replace it."
If Libyan supplies went completely offline then in the short term the price of crude could rise by another $10 or $20 a barrel, Mr Varzi said.
However if unrest spread further throughout the region then the situation would become much more serious, and develop "a fully fledged international oil price crisis", he added.
Major shift?
The markets have been gripped by uncertainty this week as investors tried to work out the possible impact of the Libyan violence and continued unrest across the region.
"Global investors are now trying to decide if the Middle East crisis means a major shift of geopolitical balance of power in the region," said Masayuki Kubota of Daiwa SB Investments.
He added that there could be "more instability and possible further oil price rises".
On Tuesday, International Energy Agency chief economist Fatih Birol said oil prices were in the danger zone.
He said they could rise further if turmoil continued in the Middle East and that may slow the recovery from the global economic crisis.
"The global economy is more fragile now than it was in 2008," Mr Barratt said.
"Growth has been driven by stimulus packages and austerity measures. I don't see it being able to absorb a rise to $140 like it did two years ago."