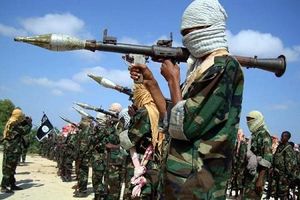 Heavy clashes between Somali government troops, backed by African Union (AU) forces, and al-Shabab fighters have resulted in the deaths of 36 people in Mogadishu.
Sixteen Somali soldiers lost their lives on Tuesday after fierce fighting broke out between al-Shabab fighters and the transitional government troops in Mogadishu's southern districts of Bermuda and Hawlwadig, a Press TV correspondent reported.
Eight al-Shabab members were also killed when Somali forces shelled the districts close to Bakara Market -- the biggest and busiest market in southern Mogadishu.
Also on Tuesday, 12 civilians were killed and 14 others wounded in the exchange of mortar fire between the two sides.
The Somali government and AU forces have been trying to drive the al-Shabab fighters out of Mogadishu.
Somalia has been embroiled in civil war for years, as it has been without a functioning national government since the overthrow of the country's dictator, Mohamed Siad Barre, in 1991.
Clashes between rival factions as well as famine and disease have claimed the lives of over one million people in the past two decades.