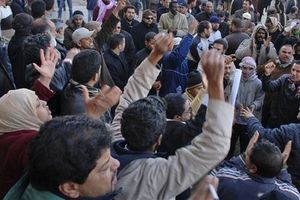 The crews of two Libyan warships have mutinied and are refusing to obey Muammar Gaddafi's orders to attack the eastern port city of Benghazi.
This development comes as more reports are coming in about Libyan troops defecting to the side of the people seeking to overthrow Gaddafi, the longest serving ruler in the Arab world.
However, thousands of soldiers have been deployed to the city of Sabratha where protesters have reportedly clashed with security forces.
Meanwhile, Libyan Interior Minister Abdel Fatah Yunes has resigned from his post in solidarity with the pro-democracy protesters.
The Libyan deputy ambassador to the UN, Ibrahim Dabbashi, has strongly criticized the crackdown, saying he will not support a government that kills its own people, and has asked Gaddafi to resign.
However, in a televised address on Tuesday, Gaddafi said he had no intention of stepping down. He also threatened to step up the crackdown against pro-democracy protesters, saying, "We have not used our power yet."
Pundits say the Libyan regime's heavy-handed clampdown on the people seems to have seriously backfired since the anti-government demonstrations have actually gained momentum across the country.
At least 1,000 people were killed in Tripoli on Monday by airstrikes conducted by the Libyan military in a desperate move meant to quell the popular uprising, according to some reports.