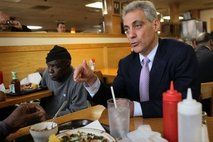 Former White House chief of staff Rahm Emanuel was elected as mayor of Chicago on Tuesday.
Emanuel, who will be succeeding the retiring Richard Daley, won over fifty percent of the vote with 86 percent of the precincts reporting.
The famously foul-mouthed Emanuel, 51, has been the clear front-runner in the race to run America's third-largest city ever since he resigned as White House chief of staff and moved back to Chicago in October.
His lead in the polls grew even as opponents dropped out of the once-crowded race to replace retiring Mayor Richard Daley, who has governed the Windy City for more than 22 years.
And so, in a move characteristic of rough and tumble Chicago politics, opponents tried to cut him off in the courts, saying he had abandoned his Chicago residency when he moved his family to Washington to work for Obama.
The challenge added ample drama to the otherwise pre-ordained race.
First, there was Emanuel's tenant, who refused to be bought out of his lease so Emanuel could move back into his northside home and then briefly entered the mayoral race himself.
Then there were the circus-like hearings in a cramped county hearing room with faulty microphones, where "citizen objectors" ridiculed the multi-millionaire for renting his home out in the first place.
It was a world away from the formality of the White House, but Emanuel proved to have a deep well of patience as he calmly answered the often bizarre questions and took every opportunity to prove his deep roots in the Windy City.
Emanuel, who was born in Chicago and served a slice of the city for years in the US House of Representatives, triumphed over objectors at the city's elections board and again at the county court.
Then, in a move that stunned Chicago, an appeals court ordered him off the ballot in a widely-criticized 2-1 ruling just days before early voting was set to begin last month.
Nearly 300,000 ballots had been printed without Emanuel's name when the state's top court issued an emergency stay, forcing city officials to tell printers to "stop the presses" and go back to the original proofs.
The Illinois Supreme Court handed him a decisive victory in a unanimous ruling two days later, and Emanuel had Chicago firmly in his grasp.
The polls opened Tuesday at 6:00 am (1200 GMT), with officials expecting a lower-than-average turnout of just over 50 percent, according to the Chicago Tribune.
The shrewd politico, whose uncompromising style earned him the nickname "Rahmbo," is expected to replicate Daley's iron-fisted tactics and focus on maintaining Chicago's reputation as "the city that works."
"Chicagoans feel Chicago is a difficult city to rule," said Ken Janda, professor emeritus of political science at Northwestern University.
"You've got to be a guy who says no. And Emanuel is seen to be a guy who is tough and can say no."
A poll released last week showed Emanuel with 58 percent of the vote -- more than enough to get the majority needed to avoid an April 5 runoff between the top two candidates.
Emanuel was also favored because he has such high-profile support. Obama -- who remains wildly popular in his adoptive hometown of Chicago -- gave Rahm a glowing endorsement.
With AFP.