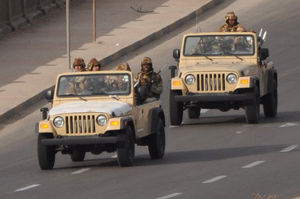 Cairo - The bodies of protesters shot to death by forces loyal to Moammar Gadhafi were left on the streets of a restive district in the Libyan capital Tuesday, an opposition activist and a resident said, while the longtime leader defiantly went on state TV to show he was still in charge.
The eruption of turmoil in the capital after a week of protests and bloody clashes in Libya's eastern cities has sharply escalated the challenge to Gadhafi. His security forces have unleashed the bloodiest crackdown of any Arab country against the wave of protests sweeping the region, which toppled leaders of Egypt and Tunisia.
The U.N. Office of the High Commissioner for Human Rights, citing sources inside the country, said Tuesday that at least 250 people have been killed and hundreds more injured in the crackdown on protesters in Libya. New York-based Human Rights Watch has put the toll at at least 233 killed. The difficulty in getting information made obtaining a precise figure impossible.
The head of the U.N. agency, Navi Pillay, called for an investigation, saying widespread and systematic attacks against the civilian population "may amount to crimes against humanity."
World leaders also have expressed outrage. U.S. Secretary of State Hillary Rodham Clinton called on Gadhafi to "stop this unacceptable bloodshed" and said the world was watching the events "with alarm."
Mohammed Ali of the Libyan Salvation Front and a Tripoli resident, who spoke on condition of anonymity for fear of reprisals, said scores of bodies had been left on the streets in Fashloum after the pro-Gadhafi gunmen opened fire the night before. Ali, reached in Dubai, and the resident said the gunmen shot at ambulances and some protesters were left bleeding to death.
Ali, who spoke to people in Tripoli, and the resident said inhabitants of the capital of some 2 million people were staying home Tuesday after the killings and warnings by Gadhafi loyalists that anybody on the streets would be shot.
Western media are largely barred from Libya and the report couldn't be independently confirmed.
Gadhafi, the longest serving Arab leader, appeared briefly on TV early Tuesday to dispel rumors that he had fled. Sitting in a car in front of what appeared to be his residence and holding an umbrella out of the passenger side door, he told an interviewer that he had wanted to go to the capital's Green Square to talk to his supporters, but the rain stopped him.
"I am here to show that I am in Tripoli and not in Venezuela. Don't believe those misleading dog stations," Gadhafi said, referring to the media reports that he had left the country. The video clip and comments lasted less than a minute - unusual for the mercurial leader, who is known for rambling speeches that often last hours.
Pro-Gadhafi militia drove through Tripoli with loudspeakers and told people not to leave their homes, witnesses said, as security forces sought to keep the unrest that swept eastern parts of the country - leaving the second-largest city of Benghazi in protesters' control - from overwhelming the capital of 2 million people.
State TV said the military had "stormed the hideouts of saboteurs" and urged the public to back security forces. Protesters called for a demonstration in Tripoli's central Green Square and in front of Gadhafi's residence, but witnesses in various neighborhoods described a scene of intimidation: helicopters hovering above the main seaside boulevard and pro-Gadhafi gunmen firing from moving cars and even shooting at the facades of homes to terrify the population.
Youths trying to gather in the streets scattered and ran for cover amid gunfire, according to several witnesses, who like many reached in Tripoli by The Associated Press spoke on condition of anonymity for fear of reprisal.
Warplanes swooped low over Tripoli in the evening and snipers took up position on roofs, apparently to stop people outside the capital from joining protests, according to Mohammed Abdul-Malek, a London-based opposition activist in touch with residents.
Gadhafi appeared to have lost the support of at least one major tribe, several military units and his own diplomats, including Libya's ambassador in Washington, Ali Adjali.
Deputy U.N. Ambassador Ibrahim Dabbashi accused the longest-serving Arab leader of committing genocide against his own people in the current crisis
.
U.N. Secretary-General Ban Ki-moon told reporters in Beverly Hills, California, on Monday described the crackdown as "a serious violation of international humanitarian law." The U.N. spokesperson's office said late Monday that the Security Council had scheduled consultations on the situation in Libya for Tuesday morning.
British Prime Minister David Cameron, visiting Egypt, called the crackdown "appalling."
"The regime is using the most vicious forms of repression against people who want to see that country - which is one of the most closed and one of the most autocratic - make progress," Cameron said.
The chaos engulfing the country prompted many foreigners to flee.
Italy's government on Tuesday dispatched an air force jet to Benghazi, Libya's second-largest city, to evacuate around 100 Italian citizens. Many countries had already urged their nationals to avoid nonessential travel to Libya, or recommended that those already there leave on commercial flights.
Benghazi's airport was closed, according to an airport official in Cairo.
Egyptian troops, meanwhile, have beefed up their presence on the border with Libya and set up a field hospital as thousands of Egyptians return home from Libya by land, according to an Egyptian security official, who spoke on condition of anonymity because he wasn't allowed to release the information.
Oil companies, including Italy's Eni, Royal Dutch Shell PLC (RDS.B) and U.K.-based BP have also begun evacuating their expat workers or their families or both.
State TV, which showed video of hundreds of Gadhafi supporters rallying in Green Square Monday, waving palm fronds and pictures of him. It also quoted Gadhafi's son, Seif al-Islam, as saying the military conducted airstrikes on remote areas, away from residential neighborhoods, on munitions warehouses, denying reports that warplanes attacked Tripoli and Benghazi.
Seif has often been put forward as the regime's face of reform and is often cited as a likely successor. His younger brother, Mutassim, is the national security adviser, with a strong role in the military and security forces. Another brother, Khamis, heads the army's 32nd Brigade, which according to U.S. diplomats is the best-trained and best-equipped force in the military.
Jordanians who fled Libya gave horrific accounts of a "bloodbath" in Tripoli, saying they saw people shot, scores of burned cars and shops, and what appeared to be armed mercenaries who looked as if they were from other African countries
.
Many billboards and posters of Gadhafi were smashed or burned along a road to downtown Tripoli, "emboldening" protesters, said a man who lives on the western outskirts of the capital.
The first major protests to hit an OPEC country - and major supplier to Europe - sent oil prices jumping, and the industry has begun eyeing reserves touched only after Hurricane Katrina in 2005 and the first Gulf War in 1991.
The heaviest fighting so far has been in the east. Security forces in Benghazi opened fire Sunday on protesters storming police stations and government buildings. But in several instances, units of the military sided with protesters. By Monday, protesters had claimed control of the city, overrunning its main security headquarters, called the Katiba.
Celebrating protesters raised the flag of Libya's old monarchy, toppled in 1969 in a Gadhafi-led military coup, over Benghazi's main courthouse and on tanks around the city.
"Gadhafi needs one more push and he is gone," said lawyer Amal Roqaqie.
Fire raged Monday at the People's Hall, the main building for government gatherings where the country's equivalent of a parliament holds sessions several times a year, the pro-government news website Qureyna said.
It also reported the first major sign of discontent in Gadhafi's government, saying Justice Minister Mustafa Abdel-Jalil resigned to protest the "excessive use of force" against unarmed demonstrators.
Several ambassadors abroad resigned to side with protesters. Two Mirage warplanes from the Libyan air force also fled a Tripoli air base and landed on the nearby island of Malta, and their pilots - two colonels - asked for political asylum, Maltese military officials said.
The backlash began Sunday after protesters streamed into the central Green Square in Tripoli, sparking scenes of mayhem. Snipers fired from rooftops and militiamen attacked the crowds, shooting and chasing people down side streets, according to witnesses and protesters.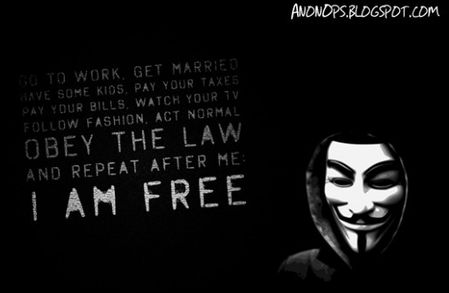 Source: Associated Press