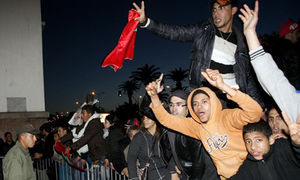 Sporadic outbursts of violence have continued in Morocco after Sunday's peaceful pro-democracy protests gave way to rioting, with five people killed in a fire at a bank in the northern port of Al Hoceima.
Interior ministry figures showed that the protests were far more extensive than first thought, with nearly 40,000 people turning out in 57 towns and cities.
Protest organisers condemned the rioting and looting that followed the demonstrations, blaming it on thugs and football hooligans returning from matches.
While the mostly middle-class pro-democracy protesters had pledged to remain peaceful, there were warnings before the marches that the real tinderbox in Morocco lay in the poverty-stricken outer suburbs of the cities, where many of Sunday's rioters are thought to live.
Outbreaks of violence continued on Monday in Fes, with at least three people injured, according to Morocco's Atlantic Radio.
Clashes were also recorded in the northern towns of Ait Bouayach and Imzourne, Spain's
El País
newspaper reported.
Interior minister Taeib Cherqaoui said 128 people had been injured on Sunday, mostly police officers. A further 120 people were detained. He said "troublemakers" had vandalised dozens of public buildings, shops and banks.
Tangier, Larache, Marrakech, Sefrou, Tetouan and Guelmim suffered the worst violence, with a total of 33 public buildings being attacked or set on fire.
Cherqaoui said the demonstrations themselves had been peaceful, calling them an example of "the healthy practise of the freedom of expression".
Moroccan authorities claim the country will prove resistant to the wave of revolution sweeping north Africa and the Middle East because of the greater freedoms enjoyed by Moroccans.
It was unclear whether or not the protest movement would call for further action over the weekend.