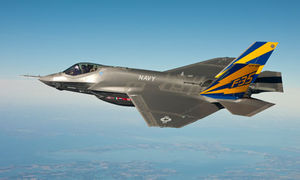 We're ready to face £1,000 fine, declare anti-war protesters in row over role of US arms firm Lockheed Martin in data gathering
People are being urged to boycott next month's UK's census because the US arms manufacturer responsible for Trident is involved in gathering the information.
Protesters say they are willing to break the law and face a £1,000 fine and a criminal record by refusing to fill in the 32-page questionnaire. Resistance to the decennial census is growing as a coalition of anti-war groups, pacifists, religious organisations and digital activists begin raising public awareness about the role of Lockheed Martin, America's largest arms manufacturer.
The company, which makes Trident nuclear missiles, cluster bombs and F-16 fighter jets, won the £150m contract to run the census on behalf of the Office for National Statistics (ONS).
A spokesman for the Stop the War Coalition said: "We will certainly be calling for a boycott and telling people not co-operate with the warmongers."
The Green party has dropped its original opposition to Lockheed Martin's lead role "because the census is extremely important and needs to be accurate", but there is grassroots disquiet.
A campaign to address the issue, bringing together religious groups, peace activists and digital data campaigners opposed to Lockheed Martin, is expected to emerge in the coming days. One of its organisers has told the
Observer
that a call for a boycott would be one of its major considerations. Siân Berry, a former Green party member who led the party's 2008 campaign against Lockheed's bid for the contract, said she was disappointed by the decision to support the census.
"The really worrying thing is the fact that the information being collected in the next census - including new questions on sources of income and place of birth [to help monitor immigration] - would be ideal fodder for the kind of anti-terror analyses being carried out by Lockheed, and could lead to a faraway database identifying thousands of us as potential 'threats'."
Lockheed Martin - which does 80% of its work for the US defence department - assists more than two dozen American government agencies and is involved in surveillance and data processing for the CIA and FBI. It has controversially provided private contract interrogators to the Abu Ghraib prison in Iraq and Guantánamo Bay in Cuba. All US-based companies are subject to the Patriot Act, which allows the US government to have access to any data in the company's possession. Campaigners have warned this could give the US government access to detailed and personal data on the UK's entire population.
But a spokesman for the ONS dismissed the fears. "No personal census data will be handled or seen by any American-owned company. No Lockheed Martin employees will see or handle any personal census data. The public can be reassured that their personal details from the census will be kept confidential and will remain so for 100 years," he said.
That assurance has failed to convince objectors. According to Geoff Meaden, a peace campaigner and former Green party parliamentary candidate, "we have no legal precedence as to whether, under the pretext of national security, this census information can be acquired by the US government.
"The Office for National Statistics claims that our data will be safe but the UK government has demonstrated on several occasions that it cannot be trusted with managing digital data containing personal records."
Simon Barrow, co-director of the Christian thinktank Ekklesia, which examines the role of religion, ethics and values in public life, said: "There are several reasons for concern over Lockheed Martin's involvement in the census. The government may have endangered the census by granting the contract to a company whose involvement has triggered a boycott.
"Many British people are likely to object to aiding the profits of a company that arms oppressive regimes and which has played a heavy role in the unpopular wars in Iraq and Afghanistan. It is understandable that some will conscientiously object to participating in the census and will choose to boycott it."
Any boycott of the census could lead to further funding problems for local councils, who already fear they will miss out on hundreds of millions of pounds of funding from central government because hundreds of thousands of people will not be counted.
The last census in 2001 has been accused of failing to count a million people and this time a number of major councils have expressed fears that lessons have not been learnt, a claim denied by the Office for National Statistics.
Census statistics are used to allocate public money for local services including education, housing, transport and health. Over £100bn per year of public money is distributed nationally using population estimates.