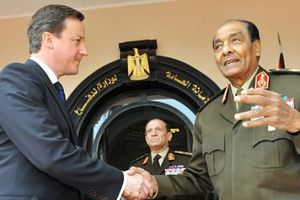 British Prime Minister David Cameron took the heads of eight arms producing companies to Egypt with him to 'to build democracy,' it has been revealed.
Cameron became the first world leader to visit Egypt after the country's long-time dictator Hosni Mubarak was toppled in a popular uprising, which had its roots in Islamic awakening.
However, the British premier was branded a disgrace after it emerged that he had
taken eight weapons manufacturers with him to the Middle Eastern country
.
Bosses from major arms and aerospace companies such as BAe Systems, Qinetiq and Thales joined the Prime Minister on the plane which last night arrived in Kuwait at the second leg of Cameron's regional tour.
Other defence contractors present included bosses from the Cobham Group, Ultra Electronics, Rolls Royce, Babcock International Group and Atkins.
The Prime Minister said he wanted to offer Britain's help in creating the "building blocks of democracy" in the country and the wider Arab region.
But critics said Cameron was promoting a mission to sell weaponry to Arab dictators
shortly after Colonel Gaddafi may have used British weapons to kill hundreds of his fellow countrymen in Libya.
Criticism of Britain's trade relations with Arab dictators has focused on former Prime Minister Tony Blair's 'Deal in the Desert' with Colonel Gaddafi in 2004.
But the story begins here. The coalition government has continued to sell arms to Libya, which included crowd control ammunition, sniper rifles and tear gas.
Recently, the government hastily revoked eight weapons export licenses to Libya amid fears British weapons were used in the slaughter of hundreds of protesters who have poured into the streets to demand their basic rights to freedom of expression and democracy.
Cameron has condemned the violence in Libya as "completely appalling and unacceptable."
"The regime is using the most vicious forms of repression," said the Prime Minister.
But, Sarah Waldron, of Campaign Against Arms Trade, said those words rang hollow because the government is still promoting arms sales to Arab autocrats.
"It's an absolute disgrace that the Prime Minister has taken these arms dealers with him," she said.
"People across the Middle East are dying for democracy at the same time as the government seems intent on flogging their wares to those very regimes that are suppressing these values," added Waldron.
Cameron, however, defiantly defended the inclusion of defence companies on his trip, saying it was right that Britain should be able to sell arms to countries in the Middle East.