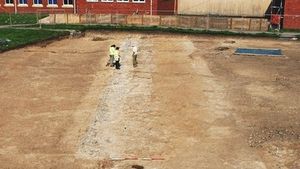 Excavation work on the site of a Roman fort near a school has revealed what archaeologists believe are structures never previously seen in the UK.
The dig in the playing fields of Dwr-y-Felin Comprehensive Upper School in Neath has uncovered sections of the defences of the 1st Century building.
These include a defence tower partially set outside its ramparts allowing soldiers to shoot at gate attackers.
A fort was in occupation on the site until at least the 3rd Century.
Richard Lewis, head of projects at the Glamorgan/Gwent Archaeological Trust, said: "It's certainly of high importance in Wales and the UK because nobody has been able to expose as large an area as we have".
The trust was asked by Neath Port Talbot council to carry out the work before a new teaching block was built on the playing field.
The fort of Nidum was discovered in the 1950s, and according to the trust, it would have been occupied by a unit of auxiliaries, who were regarded as high quality troops but "less prestigious than the legions".
They protected the fort against the fierce local tribe, known as the Silures, who were native to much of south, mid and west Wales.
Mr Lewis said: "There are some very unusual defences. We can't find anything like it anywhere else.
"They did exist 200 or 300 years later but they were very, very unusual (for the 1st Century).
Parallel ditches
"The Romans had an extremely efficient field army and their best form of defence was attack."
The structure was initially built from timber, and the later stone version was built in the early part of the 2nd Century in a slightly different position.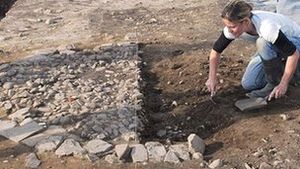 The trust said its excavations had "given us a whole new understanding of the early fort and the area outside its north-west gate".
The work has shown that the timber fort was protected by four parallel ditches and a rampart, with a tower.
Their combined width was more than 12m (39ft), which Mr Lewis said provided "formidable" defences.
"There's no road leading out and it appears that this is as far as they've got in a very, very hostile area. It basically tells us that that the Silures were rampant and they really needed good defence."
The tower had two of its four posts set on the outside of the rampart, which the trust believes "would have allowed soldiers to shoot at anyone attacking the gate".
Workers have also identified what they call another unique feature in the face of the rampart. They uncovered a trench for a palisade - a defensive fence of stakes - to prevent the collapse of the rampart, and possibly to support a lifting mechanism.
The work on the site was finished last week and it will be preserved before the school building work is carried out on top.