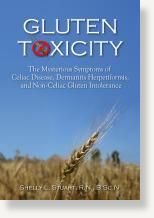 After reading this new
book
by celiac nurse specialist Shelly Stuart, RN, what shines through above all is her true understanding of the complex nature of gluten-related illnesses, and her heartfelt compassion for patients who suffer from them. Her book is extremely well researched and documented. As a registered nurse and celiac herself, Ms. Stuart is able to use her strong patient teaching experience to clearly educate the reader about even very complicated subjects. She provides excellent explanations of leaky gut and the pathophysiology of celiac disease, and she is one of the first clinicians to write in-depth about non-celiac gluten intolerance. Importantly, she makes the point that immune mediated reactions can and do occur in non-celiac gluten intolerance, and backs this up by citing clinical evidence. Another important point made concerns pancreatic insufficiency, which can accompany celiac disease, but few know that this condition can persist even after diagnosis and transition to a gluten-free diet. Her discussion of the many, varied health disorders associated with celiac disease is very comprehensive.
One of the most compelling aspects to
Gluten Toxicity
is the many important questions asked regarding the future of clinical research. Ms. Stuart makes it crystal clear that we need to know much more about the physical and mental health effects of gluten-related illness. This can only come about by increasing awareness both within the medical and research communities, and throughout each of our communities. We must all become advocates for greater testing and more accurate diagnosis.
Shelly's personal story, woven throughout the book, adds interest and a personal appeal, but never attempts to substitute anecdote for the hard science she relies on throughout the book. In fact, at first glance, the book seemed rather technical to me, and I thought it would be best-suited for clinicians, but after reading through to the end, I changed my mind. This is an excellent resource, offering really insightful and accurate explanations for anyone suffering from or attempting to treat gluten related illness. Some of you may be familiar with Cleo Libonati, RN, and the book
Recognizing Celiac Disease
, which was one of the first books to comprehensively make connections between a vast array of medical conditions and celiac disease, and back them up with clinical research citations. Shelly Stuart's book goes quite a bit farther, to discuss the pathophysiology, symptoms, and diagnosis of a huge number of health conditions associated with celiac disease and also non-celiac gluten intolerance.
Wendy Cohan: An RN for 14 years, I have been following a strict gluten-free diet for six years of improving health! Now I help others as a Celiac Disease/Gluten Intolerance Educator. I work one on one with people on meal planning, shopping, cooking and dining out gluten-free. I will also work with children who have behavioral issues related to gluten or other food sensitivities. My book
Gluten-Free PORTLAND
is a comprehensive resource guide to the gluten-free diet and is available on my website www.glutenfreechoice.com. My other websites are: www.WellBladder.com and www.neighborhoodnurse.net.