Gaddafi had been reported to be heading for Venezuela
Fighter jets strafe civilians leaving 'many, many dead'
Libyan pilots fly to Malta after being ordered to bomb civilians
Around 450 dead after 'massacre' in Tripoli
Hillary Clinton calls for 'unacceptable bloodshed to end'
Colonel Gaddafi appeared on Libyan TV to insist he was still in country tonight as his bloody 41-year grip on power appeared to be nearing its end.
Tripoli is ablaze, there is anarchy on the streets and troops still loyal to the beleaguered dictator are reported to be shooting, bombing and strafing civilian demonstrators.
The navy is said to be shelling the city alongside indiscriminate bombing runs by fighter jets as Gaddafi ordered a vicious assault against his own people.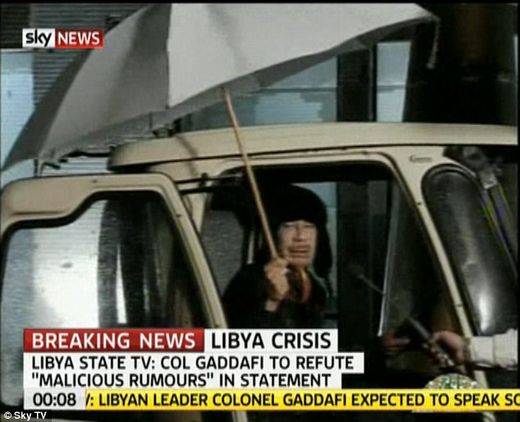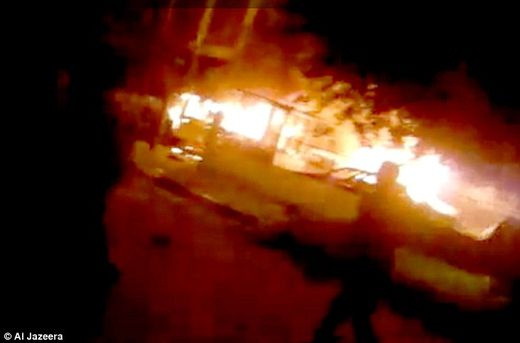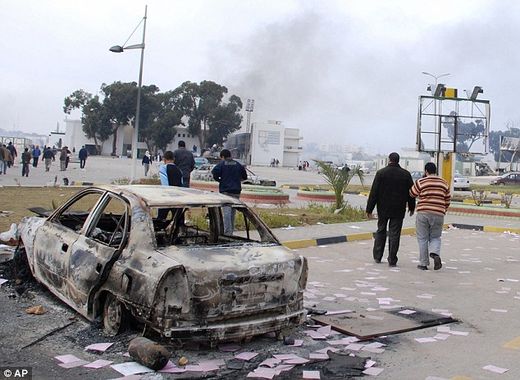 But amid reports that he had fled to Venezuela, Gaddafi appeared on state TV to insist: 'I am in Tripoli and not in Venezuela. Do not believe the channels belonging to stray dogs.
'I wanted to say something to the youths at the Green Square (in Tripoli) and stay up late with them but it started raining. Thank God, it's a good thing.'
He gave the brief statement in a bizarre 22-second TV interview while holding an umbrella and sitting in the front seat of a van, which appeared to be outside his residence in Tripoli.
Gaddafi spoke out after reports suggested a massacre had taken place in the city's Green Square and left more than 60 dead, taking the death toll across the country to more than 450.
One protester told Al Jazeera: 'What we are witnessing today is unimaginable. Warplanes and helicopters are indiscriminately bombing one area after another. There are many, many dead.
'Our people are dying. It is the policy of scorched earth,' he said. 'Anyone who moves, even if they are in their car they will hit you.'
Security forces appeared to be preparing a major assault in the capital last night, as state TV said troops had 'stormed the hideouts of the saboteurs'. Snipers took up positions on rooftops and jets swooped low over rooftops, apparently trying to stop more opposition activists joining those who are already overwhelming the city.
Protesters called for another demonstration in Tripoli's central Green Square and in front of Gaddafi's residence, but witnesses described a scene of intimidation, with helicopters hovering above the main seaside boulevard and pro-Gaddafi gunmen firing from moving cars and even shooting at the facades of homes to terrify the population.
Youths trying to gather in the streets were forced to scatter and run for cover by the gunfire, according to several witnesses who said people wept over the bodies of the dead left in the street.
The turmoil brought jitters to world markets. The oil price rose to a two-year high of $108 a barrel, with experts predicting a 5p rise in the price of a litre at the pumps within weeks.