Hickory, N.C. - The stepmother of a 10-year-old disabled girl was indicted Monday on charges she killed the freckle-faced child and then desecrated her remains to cover up the slaying, according to court documents.
A grand jury in Catawba County charged Elisa Baker with second-degree murder in the death of Zahra Baker. Authorities planned to discuss the case at a news conference later in the day.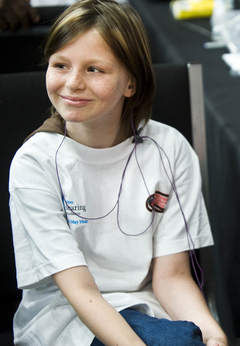 Zahra, who used a prosthetic leg and hearing aids after being stricken with cancer, disappeared four months ago. No one had been charged in her death, though Elisa Baker had been charged with obstructing justice in the investigation. Police eventually found the girl's remains in different locations around western North Carolina. Authorities still have not said how the girl died.
The indictment cites aggravating factors, saying Elisa Baker had a history of physically, verbally and psychologically abusing Zahra. And it says she desecrated Zahra's body to hinder detection and prosecution of the killing.
A search warrant unsealed last month said Elisa Baker led police to the places where they found Zahra's remains. She claimed her husband, Adam Baker, dismembered the body. Adam Baker has denied that.
The warrant also said that cell phone records indicate Adam Baker was not in the locations where Zahra's remains were found on the day Elisa Baker indicated, but that cell phone records showed she was present in those locations.
Attorneys for Elisa Baker did not return calls seeking comment Monday.
Records show the 42-year-old led a somewhat nomadic life, with dozens of different addresses over a seven-year period.
She was also married seven times and was wed to more than one man on several occasions. She met Adam Baker, seven years her junior, on a website where users create three-dimensional characters to represent themselves.
Adam Baker is free on bond, facing numerous charges not related to his daughter, who needed a prosthetic leg and two hearing aids because of a battle with cancer. He moved to North Carolina with Zahra from Australia after meeting Elisa online.