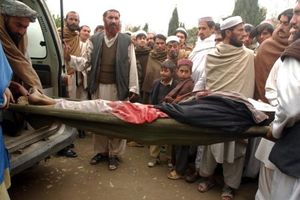 At least six members of the same family have been killed in an overnight airstrike on a home in the eastern Afghanistan city of Jalalabad, a report says.
The airstrike claimed the lives of six civilians, all members of the same family, including 4 children, in Nangarhar province in Eastern Afghanistan, a Press TV correspondent reported on Monday.
The incident came the day after President Hamid Karzai accused NATO troops of killing some 50 civilians in five days of airstrikes in the neighboring Kunar province.
Civilian casualties in US-led military operations have long been a source of friction between the Afghan government and NATO.
2010 was the deadliest year for Afghan civilians since the US-led invasion almost a decade ago. An estimated 2,400 civilians were killed last year by both US-led forces and militants.
The surge in violence comes despite the presence of 150,000 foreign troops, which are engaged in the so-called war on terrorism. The war in Afghanistan, with civilian and military casualties at record highs, has become the longest war in US history.
Official figures indicate that at least 2,330 NATO soldiers have been killed in Afghanistan since the US invasion of Afghanistan in 2001.
The United States and its allies are calling for talks with the Taliban as the war has entered its tenth year in Afghanistan.